China's Stocks Halt Three-Day Rally as Investment Growth Slows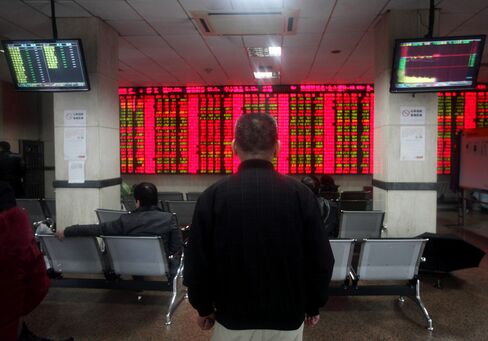 China's stocks fell, halting the benchmark index's biggest three-day rally since January, as energy and financial companies slumped after fixed-asset investment slowed to the weakest pace in more than 14 years.
China Petroleum & Chemical Corp. and PetroChina Co. retreated more than 2 percent. Huaneng Power International Inc., the listed unit of China's largest power group, plunged 4.5 percent. Western Securities Co. slid 4.4 percent, paring a rally over the past year to 479 percent. Investment rose 12 percent in the January-to-April period, compared with a forecast of 13.5 percent, while industrial output grew 5.9 percent last month, also missing analysts' estimates.
The Shanghai Composite Index dropped 0.6 percent to 4,375.76 at the close. The gauge had rallied 6.8 percent in the past three days, fueled by the central bank's third interest-rate cut in six months. Wednesday's data follow recent reports showing exports falling and inflation trailing estimates.
"It's a part of normal profit taking after a strong rebound," said Audrey Goh, a Standard Chartered Plc strategist in Singapore. "The economic momentum is quite poor. The market will probably wait and see if there's an improvement after all the government measures and if not, the government will do more in terms of easing."
The Shanghai Composite has rallied 113 percent over the past year, sending valuations to 16.9 times 12-month projected earnings, compared with the five-year average of 10.2, according to data compiled by Bloomberg.
Rate Outlook
The CSI 300 Index slid 0.6 percent. Hong Kong's Hang Seng China Enterprises Index fell 0.8 percent, while the Hang Seng Index lost 0.6 percent. The ChiNext index of smaller companies declined 1.8 percent after climbing to a record on Tuesday.
The industrial output data suggested monetary easing is trickling through the economy while more may be needed to spur a pick-up. Retail sales rose 10 percent in April from a year earlier, versus forecasts for 10.4 percent, data from the National Bureau of Statistics also showed Wednesday.
Economists are forecasting another cut in China's benchmark one-year lending rate in the third quarter as policy makers step in to cushion the nation's economic slowdown.
The lending rate is expected to fall 0.25 percentage point to 4.85 percent in the third quarter, according to the median of 23 economists. Analysts also expect banks' reserve ratios will be lowered, the median of 24 analysts showed.
New Loans
After the market close, the central bank released data showing new yuan loans plunged to 707.9 billion yuan ($114 billion) in April, compared with the estimate for 903 billion yuan. M2 money supply growth rose 10.1 percent. Aggregate financing slid to 1.05 trillion yuan from March's 1.18 trillion yuan. M2 and aggregate financing both missed forecasts.
A measure of financial stocks in the CSI 300 index slid 1.3 percent. China Citic Bank Corp. dropped 2.1 percent. Citic Securities Co. and Haitong Securities Co., the biggest listed brokerages, declined more than two percent.
Gauges of utility and energy companies in the CSI 300 slumped at least 1.9 percent for the steepest losses among 10 industry groups. SDIC Power Holdings Co. declined 4.6 percent. Huaneng Power dropped 4.4 percent in Hong Kong. Offshore Oil Engineering Co. dropped 2.7 percent.
The Chinese government is looking at stripping its biggest energy companies of their oil and gas pipelines as part of sweeping industry reforms, according to people with knowledge of the plans. The National Development and Reform Commission is leading talks on the initiative to spin off the assets of the energy companies into independent businesses, according to four people, who asked not to be named as they aren't authorized to speak publicly on the issue.
MSCI Inclusion
In Shenzhen, East Money Information Co. slid 6.8 percent after rallying by the daily limit of 10 percent in the past two days. Siasun Robot & Automation Co. fell 3.4 percent.
Templeton Emerging Markets Group's Mark Mobius, who was against China's inclusion in MSCI Inc.'s global indexes as recently as March, became the latest convert on Tuesday, saying his funds are now buying yuan-denominated shares. Five of nine global investors interviewed by Bloomberg over the past month say Chinese stocks should be added to the indexes after getting rejected last June.
Subscription for 20 initial public offerings will probably lock up 2.79 trillion yuan of liquidity starting next week, according to the median estimate of 6 analysts surveyed by Bloomberg.
Margin traders increased holdings of shares purchased with borrowed money on Tuesday, with the outstanding balance of margin debt in Shanghai climbing 0.7 percent to 1.26 trillion yuan.
Before it's here, it's on the Bloomberg Terminal.
LEARN MORE