China's Rebalancing Key to Bluer Skies
Reduced coal use and other reforms mean China should be able to continue clocking rapid growth while also delivering a modest reduction in emissions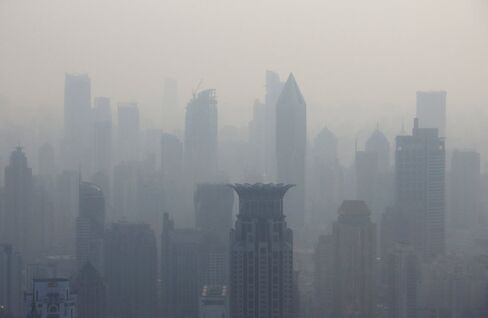 It's all about balance for China's Premier Li Keqiang these days.
Curbing debt growth while avoiding a credit crunch. Reining in profligate provinces while spurring them to keep local economies humming. Freeing up the capital account while stemming an outflow of cash. And curbing pollution without crashing industrial activity.
The average urban PM2.5 reading of 60 in 2014 was six times the level recommended by the World Health Organization, and as the 100 odd million people who watched online documentary `Under the Dome' (China's answer to Al Gore's `An Inconvenient Truth') showed, China's coughing citizens want things fixed.
Without changes to the economy's structure, the energy mix, or end-of-pipe controls, continued GDP growth in the 6 percent to 7 percent range would add 45 percent to emissions from 2014 to 2020, Bloomberg economists Tom Orlik and Fielding Chen wrote in Bloomberg Brief. Thankfully, a combination of rebalancing, reduced coal use and other reforms mean China should be able to continue clocking rapid growth while also delivering a modest reduction in emissions.
Here's how:
Energy consumption per unit of output is almost five times higher in the industrial sector than in services. An annual shift of 1 percent of GDP from steel smelters to hairdressers over the next five years would reduce emissions by about 8 percent.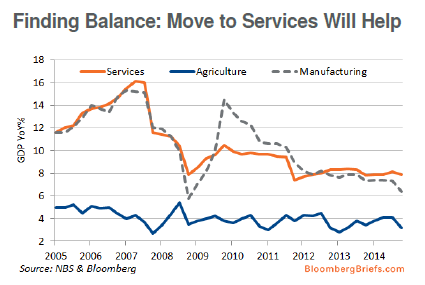 The next step is improving energy efficiency. Energy consumption per unit of output is falling and efficiency is improving in the industrial sector. Sustaining that would shave about 16 percent off emissions.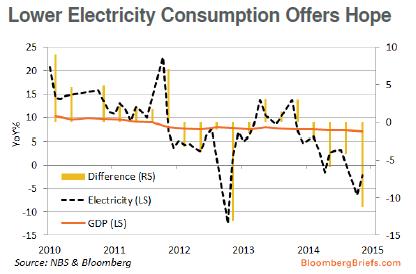 Shifting the energy mix away from coal also helps. A 0.6 percentage point reduction a year would take emissions down 6 percent by 2020.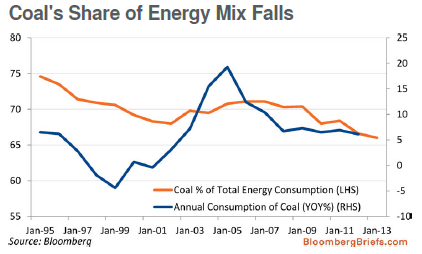 Scrubbers on smoke stacks and other measures are already helping. If sustained, that's another 17 percent off the baseline scenario.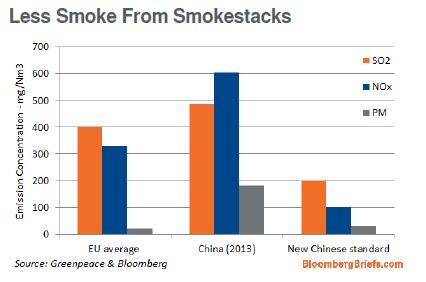 Taken together, the Bloomberg economists estimate China can sustain GDP growth of 6.5 percent a year through 2020 and still cut emissions from coal consumption by 9 percent from 2014 levels and by 38 percent relative to a no-reform scenario. While air quality won't reach WHO standards, at least the smog won't get any thicker. On balance, that means the trade-off between growth and air pollution isn't as severe as feared.
For more on the global economy, check out Benchmark:
Before it's here, it's on the Bloomberg Terminal.
LEARN MORE