CBS to End 'CSI' After 15-Year Run on Most-Watched Network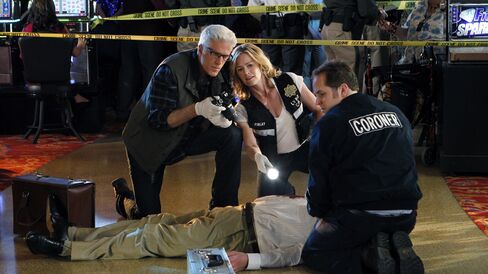 "CSI: Crime Scene Investigation," will end its 15-year run on CBS in September, the network said, closing out one of the longest-running shows on television.
The two-hour finale will air on Sept. 27, and will include original cast members William Petersen and Marg Helgenberger, CBS Corp. said Wednesday in a statement.
The series' importance to the network can't be overstated. "CSI," produced by Jerry Bruckheimer, was a cornerstone of the lineup, helping CBS become the most-watched U.S. television network for 12 of the past 13 years, and spawning spinoffs like "CSI: Miami."
"This is one of the shows that helped us reverse our fortunes and turn it in the right direction," CBS executive Kelly Kahl told reporters at a breakfast in New York.
"CSI" is the second long-running network TV show to get the axe this week, when television networks are in New York to pitch their 2015-2016 season lineups to advertisers.
"American Idol," the singing competition that once attracted more than 30 million viewers, will leave the air in 2016 after its 15th season concludes, Fox said on Monday.
CBS has extended the "CSI" brand with spinoffs, including "CSI: Cyber," which remains on the network's schedule. The fourth series in the franchise, it premiered in March and stars Patricia Arquette. Ted Danson, who has been on the original "CSI" since 2011, joins the "CSI: Cyber" cast in the coming season.
The ratings for "CSI" and "CSI: Cyber" have been almost identical this season. Both shows have averaged more than 11 million viewers and more than 2.7 million viewers between the age of 18 and 49, a key demographic for advertisers.
Before it's here, it's on the Bloomberg Terminal.
LEARN MORE