Carney Says BOE 'Not Complacent' About Risks From Greek Crisis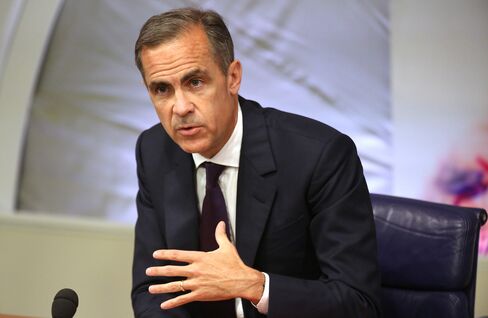 Mark Carney said U.K. growth is susceptible to any escalation of the Greek debt crisis after the Bank of England cut its forecasts through 2017.
"An intensification of the Greek crisis would have an impact on global growth and would have a modest impact on U.K. growth," the BOE governor said at a press conference in London on Wednesday. He said European Central Bank stimulus, improvements in euro-area fundamentals and limited U.K. exposure would "come together to mitigate some of the spillovers from what would be an undesirable event."
Greece is negotiating with its creditors on a deal to secure more funds under its bailout program. The Greek economy returned to recession in the first quarter, statistics showed on Wednesday, days after Finance Minister Yanis Varoufakis said the government will run out of cash within a couple of weeks unless it gets help.
"European policymakers are making heroic efforts to avoid that situation," Carney said. "They alongside the IMF are working very diligently, creatively, innovatively, and I would suggest relentlessly, to try to avoid that in a way that's sustainable."
"I don't think there's any complacency," he said. "We're not complacent about it either -- we spend a tremendous amount of time when asked, when appropriate, to provide perspective, to provide help, to think through, to contingency plan."
Before it's here, it's on the Bloomberg Terminal.
LEARN MORE