California Gasoline Surge Seen Luring Cargoes From Asia, Europe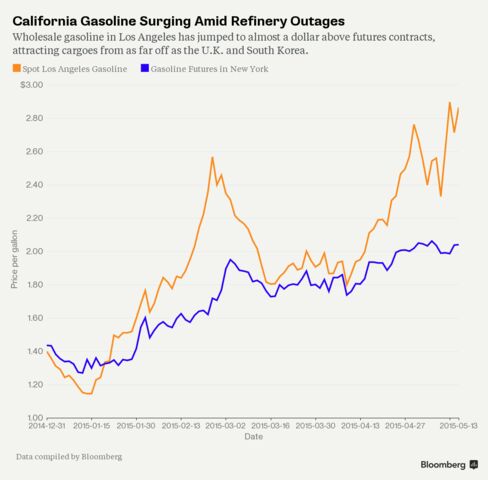 Tankers from as far off as the U.K. and South Korea were seen hauling fuel to California, rescuing the state from shortages that have driven gasoline premiums to the highest in over two years.
Two ships that were previously chartered to carry fuel from the U.K. to the U.S. Atlantic Coast were instead bound for Southern California on Wednesday, ship-broker and vessel-tracking data compiled by Bloomberg show. At least four other vessels have left Asia and are on their way to the Los Angeles and San Francisco areas, according to the data.
Imports are bound for the Golden State as gasoline in Los Angeles trades five times higher than it did a month ago. A spate of refinery outages, including a February explosion at Exxon Mobil Corp.'s Torrance plant near Los Angeles, is drying up supplies in the wholesale market. California's retail gasoline prices have been the highest in the nation almost every day since Feb. 26.
"You're probably going to keep seeing tankers coming in until Exxon gets that refinery running again," David Hackett, president of energy consultancy Stillwater Associates in Irvine, California, said by phone on Wednesday. "It's all because of the scheduled and unscheduled refinery maintenance going on on the West Coast."
Spot Prices
Spot gasoline in Los Angeles advanced 15 cents a gallon to a premium of 82.5 cents against futures traded on the New York Mercantile Exchange, a seasonal record and up from a 14.5-cent premium a month ago, according to data compiled by Bloomberg at 2:36 p.m. East Coast time. Earlier this week, the spread widened to the biggest since October 2012.
Pump prices in California averaged $3.771 a gallon on Tuesday, $1.10 above the national average, said Heathrow, Florida-based motoring club AAA.
An Energy Information Administration report issued Wednesday showed refineries on the U.S. West Coast ran at 79.2 percent of capacity last week, down from 87.6 percent a month ago.
One tanker, the Unique Developer, traveled through the Panama Canal and is due in Los Angeles on May 16 after leaving Point Tupper, Nova Scotia, vessel-tracking data show. Another tanker, the Sti Soho, loaded in Antwerp and stopped in New York and Philadelphia before heading through the canal. It's scheduled to arrive in Los Angeles next week, the data show.
Exxon's vice president of investor relations, Jeffrey Woodbury, said in a call with analysts April 30 that the company couldn't estimate when the Torrance complex would return to full operations after a Feb. 18 blast shut a key gasoline-producing unit.
"We have our own investigation that's in progress," Woodbury said. "I will say that we are diligently working to ensure continued supply to our customers."
Before it's here, it's on the Bloomberg Terminal.
LEARN MORE