Air Bubble Shield For Dangerous Smog To Be Tested In Beijing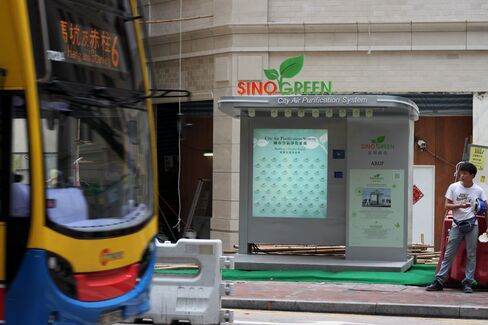 A contraption that creates a kind of air bubble that could shield people against as much as 70 percent of the most harmful pollutants debuts next month in Beijing, as China's capital battles the toxic smog that often enshrouds the city.
The outdoor air purifier has a canopy and creates an area protected by an air curtain that attempts to cover around 20 people. It was designed by London-based engineering firm Arup Group Ltd. and a unit of Hong Kong property-developer Sino Group.
Beijing's leaders in January said they will spend 10.8 billion yuan ($1.74 billion) to fight air pollution after the city missed its target last year to reduce the smog. Public concern exploded in 2013 as Beijing's levels of PM2.5, the tiny particles posing the greatest risk to human health, peaked at 35 times the World Health Organization's recommended limit. The city's air was stuck at hazardous levels again for a week in early 2014.
The technology and prototype of the air purifier was developed for around HK$600,000 ($77,391). It is expected to be used in Beijing's Tsinghua University from June. The partners have fielded queries from owners of commercial buildings and Chinese officials, who are interested in having the technology retrofitted onto building canopies and facades, lead inventor Jimmy Tong said in Hong Kong.
Particulate Matter
Tong, 38, an engineer with a doctorate degree in fluid dynamics from the University of Minnesota, has experience in designing wind turbines and a rocket launcher.
Testing on the new outdoor air purifier began on Hong Kong's busy Queen's Road East in March, and indicated a 30 percent to 70 percent reduction of PM 2.5 for users standing under the unit's canopy, which had been erected at the front of one of Sino's new residential developments. The partners have applied for a patent for their machine.
Under the canopy, air is filtered in the same way it would be by indoor air purifiers. The machine doesn't clean out nitrogen dioxide, a common roadside pollutant. Tong says he first wanted to filter out the most pressing problem: particulate matter. He says he's looking at applying different filters to eventually help the machine sift out other hazardous substances.
Sino Group in an e-mail said that its corporate social responsibility arm is currently focused on the project and doesn't have plans to commercialize it as yet. The company is working on a cost-effective way to scale up production in case of demand from government bodies.
Across the world, various methods are used to filter dirty air. Some cities plant trees in heavily polluted areas. The University of Engineering and Technology of Peru put up a billboard that filters air in the middle of a Lima construction site; while a jumbo air freshener was installed in the center of New Delhi a few years ago.
"We would of course welcome any new technology that decreases human exposure to pollutants," said Sum-yin Kwong, the chief executive of Hong Kong-based advocacy group Clean Air Network. "But at the end of the day, the only way we can be safe is to stop the hazardous particles from filling the air in the first place."
Before it's here, it's on the Bloomberg Terminal.
LEARN MORE