Yellen Misses Inflation Link in Calling U.S. Stocks 'Quite High'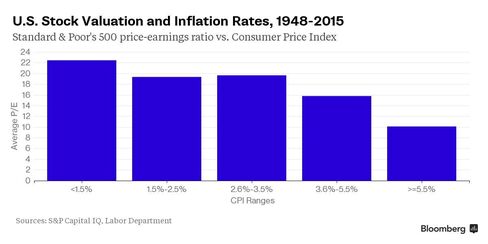 Stocks are less costly after adjusting for inflation than remarks made last week by Federal Reserve Chair Janet Yellen would indicate, according to Sam Stovall, a U.S. equity strategist at S&P Capital IQ.
The attached chart displays the average price-earnings ratios for the Standard & Poor's 500 Index since 1948 at five ranges for the consumer price index, as compiled by the Labor Department. The chart is based on quarterly data that Stovall cited yesterday in a report. Earnings were based on generally accepted accounting principles, or GAAP.
Last week, the S&P 500 closed at a GAAP P/E of 21.3. The ratio was lower than an average of 22.5 at inflation rates of less than 1.5 percent, calculated on a year-over-year basis. Consumer prices slid 0.1 percent in March from a year ago.
"When an inflation overlay is included, P/Es don't look as expensive," Stovall wrote. The New York-based strategist cited data showing the S&P 500 ratio was 18 percent higher than the average regardless of CPI.
Earnings based on methods other than GAAP also make stocks look cheaper, according to the report. The S&P 500 ended last week at 17.8 times operating earnings, which exclude unusual items. The ratio is 16 percent lower than the GAAP reading.
Yellen referred to share valuations as "quite high" on May 6 at a financial forum in Washington. "Now they're not so high when you compare the returns on equities to the returns on safe assets like bonds, which are also very low, but there are potential dangers there," she said.
Before it's here, it's on the Bloomberg Terminal.
LEARN MORE