What Verizon Buying AOL Means for Europe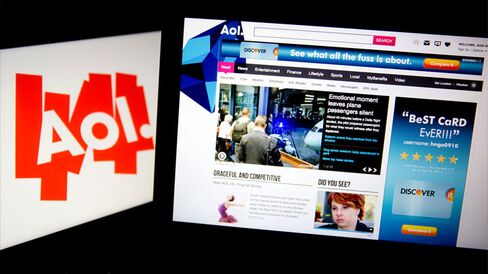 Verizon Communications Inc. has clear reasons for spending $4.4 billion (2.8 billion pounds) on AOL Inc. today: It wants to have the advertising technology to use with its video streaming services and it wants to be different from other wireless providers in the U.S.
The question is how do all those European versions of the Huffington Post and Engadget that AOL has spent years building fit into the strategy.
Programmatic mobile advertising
With AOL's advertising technology, Verizon, which has 100 million mobile clients, is seeking to compete with the likes of Google Inc. in the wireless programmatic advertising sector, which allows companies to send ads automatically to mobile devices. The AOL acquisition also comes ahead of the roll-out of Verizon's video content streaming services.
AOL's European business isn't large, accounting for no more than 8 percent of revenue, mainly through the United Kingdom and Germany, according to data compiled by Bloomberg. Most of the European business comes from the country-specific Huffingtonpost.com websites from those two countries plus Spain, France, Italy and Greece.
While Verizon doesn't have much presence outside the U.S. and isn't known for producing content, there are advantages to doing so in Europe. For one, programmatic advertisement is less developed in Europe than in the U.S., offering growth potential, according to Sarah Simon, an analyst at Berenberg.
Already about two thirds of all internet ad spend goes to display advertising, and it is increasing, according to Paul Sweeney, an analyst at Bloomberg Intelligence.
However, not many of the original content providers have the ad technology themselves, as AOL does, Sweeney says. Verizon will be taking over the technology as Europeans become more and more targeted by personalised mobile ads tailored according to their internet usage habits.
Before it's here, it's on the Bloomberg Terminal.
LEARN MORE