UKIP Denies Farage Pressured Officials to Reject Resignation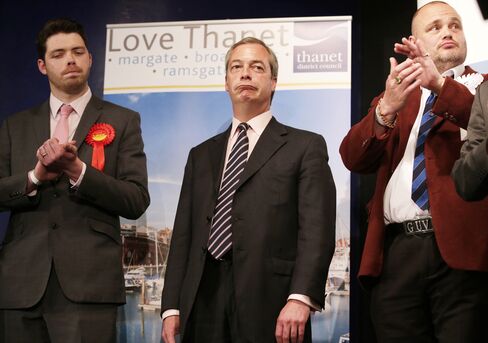 The U.K. Independence Party denied that its leader, Nigel Farage, put pressure on senior party figures to reject his resignation.
The anti-European Union party issued the statement following a report on Breitbart.Com that Farage sat in the meeting of UKIP's National Executive Committee as officials discussed whether he should remain as leader.
UKIP said on Monday that Farage was staying on, three days after he announced his resignation following his failure to win a seat in Parliament in Thursday's general election.
"There was not the slightest suggestion that the NEC was anything other than unanimous in its wish for Nigel to withdraw his resignation," UKIP Chairman Steve Crowther said in the statement. "He spent a considerable time making the case for his resignation, and the appointment of an interim leader, but there was no one in the committee who did not want him to stay on. He left the room while it was further discussed."
UKIP lost one of its two House of Commons lawmakers even though it received more than 12 percent of the vote on May 7. Conservative Prime Minister David Cameron was returned to office with a surprise parliamentary majority.
Farage will probably try to join Douglas Carswell, UKIP's only member of Parliament, when a special election is next held in a Labour-held seat, he told BBC Radio on Tuesday.
Before it's here, it's on the Bloomberg Terminal.
LEARN MORE