U.S. to Station Osprey Squadron at Air Base in Tokyo Suburbs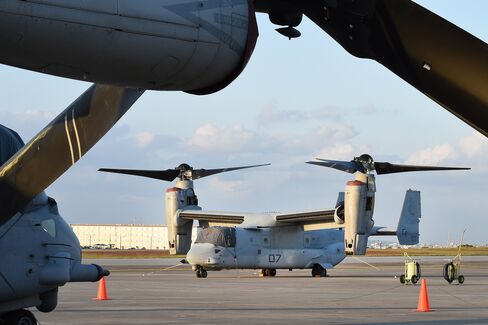 The U.S. will station a squadron of CV-22 Osprey aircraft in suburban Tokyo, risking a public backlash over their safety record.
The first three tiltrotor aircraft will arrive at the Yokota Air Base, 40 kilometers (25 miles) west of the city center, in the second half of 2017, the U.S. Department of Defense announced Monday. An additional seven aircraft are scheduled to arrive by 2021.
The move comes after Japan and the U.S. last month revised defense guidelines to bring their militaries closer amid Japan's territorial dispute with an increasingly assertive China. The U.S. first deployed the Osprey to the southern island of Okinawa in 2012 in the face of demonstrations over safety after a series of crashes involving the aircraft. In 2004, islanders were angered by a separate U.S. military helicopter crash on a university campus.
Japan also agreed last year to purchase the Osprey, produced by Bell Helicopter and Boeing Co., for its own self-defense forces.
The Osprey can take off, land and hover like a helicopter and fly long distances like a fixed-wing plane. The Pentagon described it as having unique capabilities and an excellent operational safety record.
"The deployment reflects the United States' steadfast commitment to defend Japan," the Pentagon said in its statement.
The Japanese Ministry of Foreign Affairs said in a separate statement that the deployment would contribute to the deterrent effect and response capabilities of the Japan-U.S. alliance and the stability of the Asia-Pacific region.
Before it's here, it's on the Bloomberg Terminal.
LEARN MORE