U.S., Russia Exchange Warmer Words Without Narrowing Differences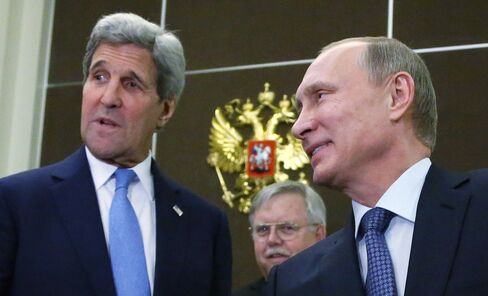 The first face-to-face meeting in two years between U.S. Secretary of State John Kerry and Russian President Vladimir Putin had a warmer tone than recent frosty exchanges between the countries but produced no substantive agreements.
"Sometimes our opinions diverged, and we did not always find common understanding of the issues," Russian Foreign Minister Sergei Lavrov said after eight hours of meetings on Tuesday in the Black Sea resort of Sochi. "But we fully understand that it is absolutely necessary to avoid steps that could further damage relations between Russia and the U.S."
Lavrov made it clear that there are limits to cooperation between the Cold War rivals. "Our president firmly emphasized that we are ready for as broad cooperation as possible and as close interaction as possible with the U.S.A. based on equal rights and mutual respective interests and positions of each other," he said in a joint press conference with Kerry.
While U.S. and Russian officials said they'll work together to shore up a cease-fire in Ukraine that's been in effect since February, U.S. and NATO officials are braced for a renewed offensive by Russian-backed separatists.
More than 6,100 people have died and a million people have fled their homes in fighting between Ukrainian government forces and the separatists that has sparked the biggest geopolitical confrontation pitting Russia against the U.S. and its European allies since the Cold War.
Dueling Allegations
Russia has accused the U.S. of encouraging Ukraine to sabotage the peace process, and U.S. officials have said the insurgents are using the cease-fire to prepare for a possible new offensive. Putin has repeatedly rejected U.S. and European assertions that he's aiding the rebels in Ukraine's easternmost regions with military personnel and equipment.
Kerry said in Sochi that the U.S. has expressed "deep concerns" about Russia's continued military support for the rebels. At the same time, he said that Russia and the U.S. agree that implementing the Minsk agreement on negotiating a political solution is the only way forward.
U.S. and European sanctions on Russia can be rolled back "if and when" the accord is fully implemented, Kerry said. He added that he also will urge Ukrainian President Petro Poroshenko to avoid violating the cease-fire.
Lavrov said that both sides have been violating the truce agreement and aren't complying with its requirement to pull back heavy weaponry.
Tomatoes, Potatoes
Kerry was greeted in Sochi by a rhetorical blast from the Russian Foreign Ministry, which said the "difficult period" in relations is "caused by targeted unfriendly actions by Washington."
The meetings did melt some of the ice. Lavrov gave Kerry locally grown tomatoes and potatoes and a T-shirt with a logo marking the 70th anniversary of the allied victory over Nazi Germany in World War II. Kerry gave Lavrov a brown leather writing portfolio.
Kerry pointedly thanked Putin for devoting so much time to their discussions. "There is no substitute for talking directly to key decision-makers," he said.
Still, the two countries' differences were visible through the veneer of diplomacy in the remarks to reporters. Lavrov referred to "some specific irritators that have been in place recently," and Kerry thanked Putin for "his directness" in the four hours of meetings that they had after the top U.S. diplomat first met for four hours with Lavrov.
Russia and the U.S. will "redouble efforts" to help bring an end to the four-year civil war in Syria, Kerry said. Putin has continued to support Syrian President Bashar al-Assad, whom U.S. President Barack Obama said in 2011 must "step aside."
'Closely Aligned'
On Iran, where Russia and the U.S. are involved in international talks to yield an agreement on the Persian Gulf state's nuclear program, Kerry said their positions are "closely aligned." Unity "will be key to concluding a good deal," he said.
World powers are heading toward the June 30 deadline to reach a nuclear accord with Iran. U.S. officials have worried that the tensions over Ukraine would jeopardize Russian cooperation in the negotiations, which they say hasn't happened so far.
However, it remains unclear whether Russia will support U.S.-led efforts to draft a resolution that would enable the United Nations to "snap back" its sanctions on Iran if the Islamic Republic is caught violating a nuclear agreement.
While State Department officials had tried before the meetings to focus attention on the Syria issue, Putin's foreign-policy adviser, Yuri Ushakov, said the Russian leader's talks with Kerry focused mainly on Ukraine and were open, friendly and businesslike.
"This is not a breakthrough, but the start of a process," Ushakov told reporters.
Before it's here, it's on the Bloomberg Terminal.
LEARN MORE