Sierra Leone Backs Palm-Oil Project in Post-Ebola Rebuild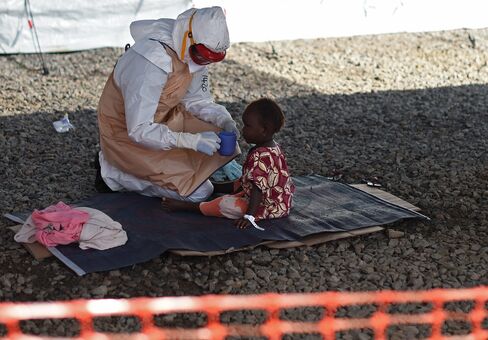 Sierra Leone will use $16 million to expand a palm-oil farm and mill as the West African nation turns to agriculture to rebuild its economy after an Ebola outbreak that has killed about 3,900 people in the country.
The Islamic Development Bank gave an $11 million loan that will be used to develop 7,000 hectares (17,297 acres) of the crop, Abu Bakarr Daramy, an Agriculture Ministry spokesman, said in an interview in the capital, Freetown. About 2,500 hectares of palm have been planted on the government-owned farm, while a mill and housing for workers will be built next at the Gambia-Mattru site in southern Sierra Leone, he said.
"In the post-Ebola plan, agriculture is made a priority because we have seen that jobs have been lost in other areas like the mining sector," he said on May 4. "The project will therefore boost production for both domestic use and export, reducing the dependence on mining for economic growth."
The worst ever outbreak of Ebola pushed Sierra Leone into a recession this year and eroded progress it made since the end of a 10-year civil war in 2002. Mining companies closed operations and cut jobs, while farmers abandoned their crops. Before the outbreak, the nation's gross domestic product was expanding at the second-fastest pace in sub-Saharan Africa because of exports of iron ore, which is used to make steel, International Monetary Fund data show.
Agriculture Contribution
Agriculture makes up 47 percent of the economy and about two-thirds of Sierra Leoneans' livelihoods are tied to farming, Daramy said. Palm oil, the world's most used cooking oil, is the nation's biggest agricultural export after cocoa and coffee. Palm oil rose 0.4 percent to 2,204 ringgit ($609) a metric ton on Bursa Malaysia Derivatives in Kuala Lumpur on Tuesday, paring the drop over the past 12 months to 11 percent.
Many banks stopped offering services to farmers when the government quarantined regions to slow the spread of the virus last year, Daramy said. The ministry is providing support to farmers by providing access to loans from the agricultural banks, which are still working, he said.
"Our post-Ebola strategy is to increase productivity and create markets for farmers," he said.
Before it's here, it's on the Bloomberg Terminal.
LEARN MORE