Robin Hood's Annual Bash Has Now Officially Outgrown the Venue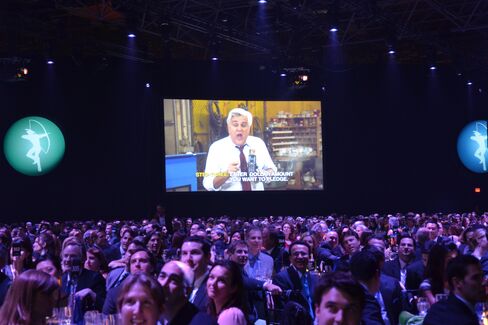 Bill Ackman will be there, up front at one of the eight tables he bought to get the best view of Paul McCartney. Humans of New York portraits of those in need will adorn the walls. And besides the 4,000 titans of finance and industry filling the hall, the first ever satellite parties will attract 1,000 "next-generation" guests across town.
New York City's ultimate do-gooder's rave, the Robin Hood Foundation's annual benefit gala, will take place Tuesday night at the distinctly unglamorous but appropriately ample Jacob K. Javits Center. Expectations, as always, are high. Last year, a drone buzzed overhead with the night's tally: $60 million for fighting poverty in New York City. Since its start 25 years ago, the total in cash, goods and services has surpassed $2 billion.
"It's the industry thing, you sort of have to go," said Ackman who started attending in 2004, the year he founded Pershing Square Capital Management.
The brainchild of David Saltzman and Paul Tudor Jones, among others, Robin Hood's benefit has become the No. 1 gathering of the hedge fund and finance industry, a spectacle on a par with Berkshire Hathaway Inc.'s annual meeting in Omaha, Nebraska. And the foundation it supports is widely respected. The more than 200 nonprofits it works with, like stocks, need to live up to their promises. When they don't, they're dropped.
Charter Schools
Larry Robbins, chief executive officer of Glenview Capital Management, and a Robin Hood board member, said the group has helped KIPP, the high-performing charter school network, leap to 11 schools from two around town. It's been a prime force in expanding the widely praised anti-poverty program Harlem Children's Zone to 100 blocks from 24. And it focuses on data-driven results.
Since 1990, when the Four Tops performed at the Manhattan Center for the group's first benefit, forsaking the orchestra, black tie and other trappings of uptown affairs, Jones and Saltzman have sought to create a gala that would stand out.
All event costs are covered by the board so outside contributions go entirely to charities, helping open the pockets of Wall Street's socialites for a total that one year exceeded $80 million. By comparison, the Metropolitan Museum of Art's Costume Institute Ball raised upwards of $12.5 million last week, and the UJA-Federation of New York Wall Street Dinner collected more than $26 million in December.
Robin Hood consistently draws marquee talent. Comedians have included Jimmy Fallon, Seth Meyers and Louis C.K. while Rihanna, Lady Gaga and Beyonce have sung for the well-heeled throngs. This year, Katie Couric will do the honors as emcee and Oprah Winfrey and actress Ruth Wilson are expected. Harvey Weinstein always brings the Hollywood glamour quotient to saddle up next to the hedge-fund stars.
'Special Sauce'
The number of Robin Hood leaders from outside the world of finance has been expanding. This year's co-chairmen include Indra Nooyi, CEO of PepsiCo, and David Zaslav, CEO of Discovery Communications, the cable TV company.
Adam Flatto, co-CEO of Georgetown Co., a real estate developer, said that over seven years he helped lead an effort to build three charter high schools. He worked pro bono, with Robin Hood and the city providing the funding.
Last year, he recruited other real estate executives to form an advisory board to help Robin Hood on affordable housing and the homeless.
"Robin Hood just has that special sauce that is really unique in the city to bring together people of resource but actually turn them into effective catalysts for making this stuff happen," Flatto said.
Some of that stuff has also included responding to the effects of the recession, the needs of veterans returning from Iraq and Afghanistan and the victims of 9/11 and Hurricane Sandy.
Satellite Parties
The event is big on party-friendly symbols of its mission, like a 198-foot-long (60 meter) bridge with the slogan "from poverty to possibility," and a tornado of thousands of sneakers representing the lack of basic clothing for disadvantaged New York teens. Screens broadcast high school graduation rates and the number of people in shelters.
The first-ever satellite gatherings at Lavo and the Gallery at Dream Downtown will offer music, dancing and cocktails to young professionals. The $150 tickets are sold out with more than $150,000 raised so far. This, say the organizers, is the start of something.
"One night, there will be thousands of parties in all five boroughs where people of all types come together to lend a helping hand," said Saltzman, the executive director.
Before it's here, it's on the Bloomberg Terminal.
LEARN MORE