Riksbank Suffers Godfather Moment as Deflation Pulls It Back In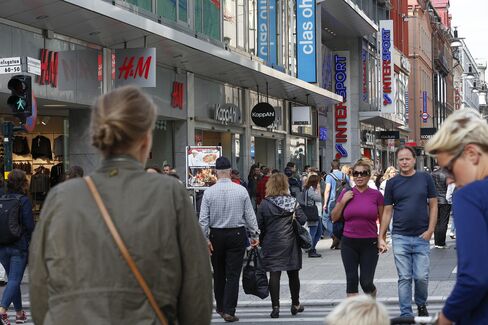 One of the most famous scenes in Godfather III is when Al Pacino's character, Michael Corleone, says: "just when I thought I was out, they pull me back in."
That's looking like an apt metaphor for the plight of Sweden's Riksbank. Policy makers thought their past sins in underestimating the threat of deflation were behind them after some stray signs of price growth. But April's consumer-price report pulled them right back in.
Statistics Sweden's index showed consumer prices unexpectedly declined 0.2 percent, instead of gaining 0.2 percent as estimated by analysts. The decline came amid a broad drop in clothing, housing and consumer goods costs.
"This must have come as a shock to the Riksbank, especially since the downturn was rather broad-based, which makes things even more serious," said Knut Hallberg, an analyst at Swedbank AB in Stockholm. "They've been very clear about that the tide had turned and that they didn't expect any more negative surprises, and then this happens."
The krona tumbled and traders raised bets in the forward market that the Riksbank will need to cut interest rates again from its historic minus 0.25 percent. The bank last month kept rates unchanged and decided to double their bond purchasing program in its battle against deflation as it seeks to match the European Central Bank's much bigger stimulus package.
Hallberg said the bank will probably be forced to cut to minus 0.5 percent, "possibly already on Monday."
Not Good
Policy makers have struggled to balance their concerns that low rates risk fueling an overheated housing market with policies that address disinflationary pressures. Sweden suffered recurrent bouts of deflation last year, with annual consumer prices dropping every month from August through January.
"This was not a good number, that's very clear," Deputy Governor Per Jansson told reporters on Tuesday in Stockholm before having looked at the breakdown of the data. "We will have to take a look at the situation" and "see what conclusions we will reach," he said.
Several Riksbank board members also referred to the need for continued expansionary monetary policy, according to the minutes of last month's rate meeting, which were published at the same time as the inflation report.
"The minutes, together with the large downside surprise for CPI also released today, supports our view that the Riksbank will deliver another rate cut in July," Olle Holmgren, an analyst at SEB AB in Stockholm.
"There is of course also a heightened probability for an inter-meeting rate cut," he said. "But in our view it is not the main scenario as inter-meeting cuts are likely primarily designed to counteract adverse financial market movements such as a rapid strengthening of the krona."
Before it's here, it's on the Bloomberg Terminal.
LEARN MORE