RBNZ Plans Tighter Lending for Auckland Property Investors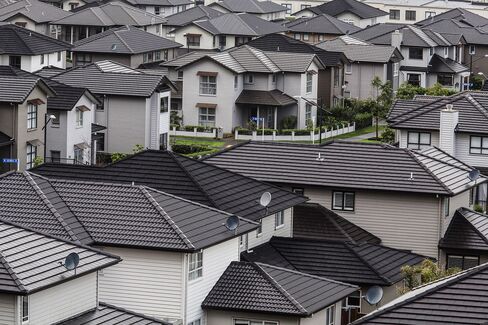 New Zealand's central bank plans to tighten lending restrictions for residential property investors in Auckland to curb an overheated housing market in the nation's largest city.
Investors will need to have a deposit of at least 30 percent for any bank loan to buy residential property in the Auckland area, the Reserve Bank of New Zealand said in its semi-annual Financial Stability Report in Wellington Wednesday. The proposed new policy would come into force from Oct. 1.
Governor Graeme Wheeler is using lending limits to curb the housing market in Auckland, home to a third of New Zealand's 4.5 million people, after last month ruling out increasing the official cash rate as inflation slows to near zero. The new loan restrictions add to signs the central bank may cut borrowing costs later this year, economists said.
"Housing will not be an impediment to cutting the OCR to combat low inflation," said Nick Tuffley, ASB Bank chief economist in Auckland. The RBNZ will begin reducing rates in September "but the risks are tilted to an earlier start," he said.
New Zealand's currency bought 73.69 U.S. cents at 2:19 p.m. in Wellington from 73.65 cents immediately before this morning's statement, having risen as high as 74.22 cents.
'Unjustified'
The kiwi climbed after the central bank omitted a reference to its level being unjustified, a key criteria for intervention, in today's report. It retreated later when Wheeler told a parliamentary committee the bank does consider the exchange rate to be unjustified.
While the dollar has fallen in recent weeks, "we still think that the exchange rate is unjustified and unsustainable, so we'd like to see more movement downwards in the exchange rate," Wheeler said in testimony to parliamentarians.
Dominick Stephens, chief New Zealand economist at Westpac Banking Corp. in Auckland, said expectations of a rate cut as soon as next month are premature as the RBNZ would prefer to have the new lending restrictions bedded down first.
"The RBNZ's usual procedure is to give ample warning of a change in the direction of monetary policy before actually pulling the trigger," he said. "If there is to be an OCR cut this year, we expect it will come between September and December, rather than in the near future."
Rate-Cut Bets
Wheeler on April 30 said he would cut interest rates if demand and prices weaken after inflation slowed to a 15-year low of 0.1 percent in the first quarter. Traders see a 54 percent chance he will cut borrowing costs next month, according to swaps data compiled by Bloomberg.
Auckland house prices rose 16.9 percent in March from a year earlier, compared to 3.2 percent in the rest of the country, the RBNZ said today.
"Prices in the Auckland region have become very stretched, increasing the risk of financial instability from a sharp correction in prices," Wheeler said. The RBNZ wants "to improve the resilience of the banking system to a potential downturn in the Auckland housing market."
Auckland's market has been driven by supply constraints and increased demand as a result of record immigration, low interest rates and investor demand, the RBNZ said. Housing conditions outside the city are "more subdued," it said.
Auckland residents wanting to buy their own home will continue to face restrictions on low-deposit home lending, in place since October 2013. That policy requires banks to limit loans of more than 80 percent of a property's value to no more than 10 percent of new lending.
Outside Auckland
The limit on low-deposit lending outside Auckland will rise to 15 percent from October, the central bank said today.
Wheeler said the new rules may reduce the number of Auckland house sales by as much as 10 percent and reduce house-price inflation in the city by as much as 4 percentage points.
The RBNZ will also establish a new asset class for bank loans to residential property investors, following consultation with the industry, it said. The new class will be effective from Oct. 1 for new loans and existing loans must be reclassified by June 30, 2016.
"Banks will be expected to hold more capital against this asset class to reflect the higher risks inherent in such lending," it said without giving any details. Holding more capital against a loan will increase the cost of borrowing for investors, helping to slow demand in the market. A residential property investor loan will be defined as any retail mortgage secured on a residential property that is not owner occupied, the RBNZ said.
Wheeler said New Zealand's financial system also faces risks from easy global financial conditions and a sharp fall in incomes in the dairy industry.
Before it's here, it's on the Bloomberg Terminal.
LEARN MORE