Poloz Eyes 2% Inflation Target in Shift That Would Surprise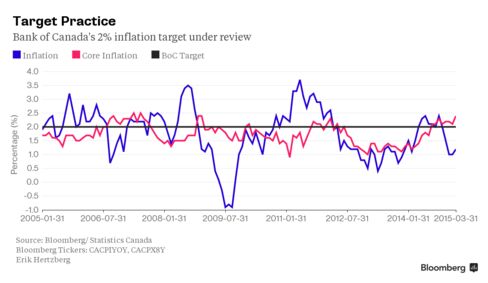 After shocking markets with an interest rate cut in January, Bank of Canada Governor Stephen Poloz is considering a move that would be another surprise: changing the central bank's 2 percent inflation target.
In a potential challenge to global central bank orthodoxy, Poloz and his Governing-Council colleagues are debating the merits of raising the inflation target for the first time since 1991. The argument is that with Canada's growth potential reduced by weak global demand, chances are higher that interest rates will get stuck at zero, limiting the central bank's range of options in the event of another crisis.
Raising the inflation target would in theory help policy makers avoid extended periods at the so-called zero lower bound. Craig Wright, chief economist at Royal Bank of Canada, said any such move would also be a surprise given the success of 2 percent inflation targeting.
"I don't see the odds of it changing very high," Wright said by telephone. "There would be a huge messaging challenge with any change."
The Bank of Canada has been talking about the issue since 2014, with research published on the matter on its website, said Jill Vardy, the central bank's chief of communications. All communications on the target renewal have stated that the "bar for changing the agreement is high," Vardy said in an e-mail.
'Absolutely Wrong'
"It is absolutely wrong to characterize research done by the Bank on the implications of a higher inflation target as a surprise," she said.
Tinkering with the target would be unpopular with debt investors, because inflation erodes the purchasing power of fixed coupon payments.
"More inflation is always bad for bonds," Heather McOuatt, portfolio manager who helps oversee C$4 billion ($3.3 billion) in fixed income at Franklin Bissett Investment Management, said by telephone April 30. "That said, I understand the argument that a higher band might be required and that's because disinflation is now one of the bigger concerns for central banks."
Bond Returns
Ten-year Canadian government debt has returned 1.4 percent this year, compared with 0.6 percent for equivalent-maturity U.S. government debt, according to Bank of America Merrill Lynch data. Government bonds indexed to fluctuations in consumer prices -- so-called real return bonds -- are up 3.8 percent this year in Canada, versus 0.9 percent for inflation-linked Treasuries.
Adopting a higher target would, in addition to boosting some bond yields, weaken Canada's dollar, economists and investors said.
Canada's inflation target is currently defined as keeping price increases within a range of 1 percent to 3 percent. The central bank is set to renew its five-year mandate with the federal government in 2016. The Ottawa-based bank's home page is now topped with discussion papers reviewing the target's effectiveness, and among the options is raising it to deal with global growth that Poloz said has been the source of "serial disappointment."
Negative Shocks
Higher inflation targets won an early boost in a 2010 International Monetary Fund paper from Olivier Blanchard, Giovanni Dell'Ariccia, and Paolo Mauro, who asked if policy makers should have more room to respond to negative shocks.
Boston Fed President Eric Rosengren said last month it could be the case that "inflation targets have been set too low." One place it's happened is Japan, where the central bank raised its target in 2013 to 2 percent from 1 percent. That move was part of a broader effort to fight deflation with interest rates already around zero.
Such a move also has its detractors. Canada's dollar would probably weaken in the short term on the resulting speculation over interest rates being low for longer, said Peter Frank, global head of Group of 10 and Asia currency strategy at Banco Bilbao Vizcaya Argentaria SA in London.
Credibility Hit
"I don't think raising the CPI target to 3 percent is the best move," said Frank, who added the bank's credibility would be at stake under a new system.
Poloz has already embraced a shift in ideas since replacing Mark Carney in June 2013, rejecting so-called forward guidance on interest rates and surprising investors with a January rate cut that he called "insurance" against the shock of lower oil prices. His deputy Agathe Cote said inflation targets have worked well and there is "nothing magic" in any particular number.
Consumer prices have stabilized since the crisis, with total inflation advancing 1.2 percent in March from a year earlier and core prices by 2.4 percent, the most since 2008.
Yet Cote said in a February speech that inflation may still turn briefly negative in the aftermath of collapsing oil prices and slowing income and investment. The bank's overnight lending rate of 0.75 percent would give it little scope for further cuts if lower prices took hold.
Lower Target
Talk of raising the inflation target is a switch from past renewals of five-year agreements that looked at a lower target or even forcing policy makers to correct for overshoots by focusing on the index level of prices instead of the current inflation rate.
Canada's potential output growth and the level of borrowing costs needed to keep the economy in balance have both declined since the financial crisis, as it has across most of the world, Senior Deputy Governor Carolyn Wilkins said in a September speech. Policy makers have less experience with sluggish inflation than with tightening to keep a lid on price increases, she said.
"We have a greater appreciation of this risk now than we did before the global recession, when we were more concerned about the upside risks to inflation," Wilkins said.
Canada's fourth-quarter gross domestic product slowed to 2.4 percent on an annualized basis, compared with 3.2 percent in the prior period. Poloz said growth in the first three months of this year probably stalled. Statistics Canada will release that data on May 29.
Shrinking Workforces
Another reason for accepting higher inflation predates the 2008 financial crisis. Bank of Canada and other officials warned even before then that industrialized nations faced danger from slower trend economic growth as aging populations reduce the size of the workforce. The IMF also said in April that aging populations will slow potential economic growth in both emerging and advanced economies.
"Monetary policy in advanced economies may again be confronted with the problem of the zero lower bound if adverse growth shocks materialize," according to the Washington-based group's World Economic Outlook.
It's healthy for Canada to review its targeting policy even if nothing changes, said Brian DePratto, an economist at Toronto-Dominion Bank.
'Little Room'
"It's their job to look at the alternatives and consider them," he said of Canada's inquiries. "Coming out of the crisis do they want to make a big change like that? It's not clear to me."
Poloz himself so far has left most of the discussion on inflation targets to his deputies. His main comments were in a Feb. 24 speech about reinventing central banking.
"We have learned that the interest rates associated with 2 percent inflation leave very little room to maneuver in response to large shocks," he said in London, Ontario. "We will need to consider the risks of any changes to the current flexible inflation-targeting regime, including any possible side effects on policy credibility, before we make any decisions."
Before it's here, it's on the Bloomberg Terminal.
LEARN MORE