Picasso Painting at $179.4 Million Sets World Auction Record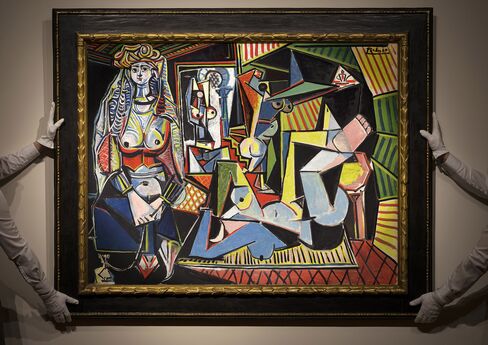 Pablo Picasso's dynamic 1955 painting, "Les Femmes d'Alger (Version ''O'')," fetched $179.4 million, the highest price paid for any artwork at auction.
The canvas, depicting a group of semi-naked courtesans, was the star of Christie's special evening auction "Looking Forward to the Past." It offered works spanning the entire 20th century and tallied $705.9 million, surpassing its presale target of $500 million.
Amid surging art prices, Christie's expects to sell as much as $1.3 billion worth of art this week in New York as part of semi-annual auctions of Impressionist, modern, postwar and contemporary art. Sellers included billionaire money manager Steven A. Cohen, casino mogul Steve Wynn and New York real estate tycoon Sheldon Solow. Bidders came from 35 countries and many entered the market in the past five years, Christie's said.
A second work also surpassed the $100 million mark. Alberto Giacometti's 5-foot-10-inch-tall, bronze sculpture of a stick-thin man pointing with his right arm, fetched $141.3 million, setting an auction record for the Swiss artist and for a sculpture.
"We are in a fantasy land out here," said Michael Ovitz, collector and former Walt Disney Co. president, exiting the packed midtown Manhattan salesroom. "It's unbelievable."
Of the 35 lots offered, only one didn't sell. Picasso was the top lot and one of six artists who set personal auction records in the sale. The others were: Giacometti, Jean Dubuffet, Chaim Soutine, Peter Doig and Diane Arbus. The top 10 works each sold for more than $15 million.
Surpassed Bacon
The price for "Les Femmes d'Alger" smashed the record held by Francis Bacon's $142.4 million triptych, "Three Studies of Lucian Freud," since November 2013. Elaine P. Wynn, Wynn's ex-wife, was the buyer of the Bacon triptych.
Prices include buyer's premium, estimates don't.
The auction house had valued the Picasso at $140 million, the highest presale target of any work. Bidding for "Les Femmes d'Alger" started at $100 million and lasted for 11 minutes. At least four people competed for the painting, which is based on Eugene Delacroix's work of a similar title. The winner, who wished to remain unidentified, was a telephone client of Brett Gorvy, Christie's global head of postwar and contemporary art.
One of the bidders was a client of Rebecca Wei, Christie's president of Asia; another was Wynn.
"I bid early on, at $125 million," Wynn said in an interview outside of Christie's after the auction. "I think $179 million is a price you sell a picture at, not the price you buy it at."
Ganz Collection
"Les Femmes d'Alger (Version ''O'')" last appeared at auction in 1997 as part of the famous collection of Victor and Sally Ganz, and sold for $31.9 million. London-based art dealer Libby Howie said in an e-mail that she had bought the work at the Ganz sale for a client who was the seller Monday evening. The work increased in valued 462 percent in the past 18 years.
The Ganzes were the original owners of Picasso's complete "Les Femmes d'Alger" 15-painting series, according to Christie's. They bought the group in 1956 directly from Picasso's dealer, Daniel Kahnweiler, paying $212,500.
The Picasso painting was guaranteed -- meaning the auction house agrees to pay the seller an undisclosed minimum price regardless of the sale's outcome. Another guaranteed lot, a mobile by Alexander Calder, was the sale's sole casualty.
'Holy Grail'
Giacometti's pointing man sculpture had been estimated at $130 million and was offered without a guarantee. The seller was Solow, according to a catalog for a 1974 retrospective for the artist in New York.
"It was one of the holy grails for us here," Jussi Pylkkanen, Christie's global president and the evening's auctioneer, said of the work. "We'd always known where this work was and we'd always hoped that one day it might come up for sale."
The sculpture "looked a little bit like an auctioneer," he added jokingly after the sale.
Giacometti's previous auction record of $103.4 million was achieved at Sotheby's in London in 2010 for the artist's "Walking Man" sculpture, at the time a record for any artwork at auction. The buyer at Monday's sale was an anonymous telephone client of Marc Porter, Christie's chairman of the Americas.
Dora Maar
The third most expensive piece of the night was Picasso's scarlet 1938 portrait of the artist's lover Dora Maar, "Buste de femme (Femme a la resille)." Consigned by Wynn, it sold for $67.4 million, surpassing the presale target of about $55 million. The buyer was a client of Wei, Christie's president of Asia.
"I thought it was a fair price," Wynn said after the sale.
Dubuffet's densely colorful 1961 "Paris Polka" fetched $24.8 million, more than three times the artist's previous auction record of $7.4 million set six months earlier, at Sotheby's November auction. The seller was billionaire collector Cohen, who runs family office Point72 Asset Management. Christie's guaranteed Cohen an undisclosed minimum price regardless of the sale's outcome.
Mark Rothko's 1958 "No. 36 (Black Stripe)" fetched $40.5 million, within the estimated range. The buyer was the client of Jinqing Cai, Christie's president of China.
Doig's Boat
Claude Monet's 1900-1901 sunset view of the Houses of Parliament in London, the oldest piece in the sale, fetched $40.5 million, also within the estimate.
Peter Doig's 1990 "Swamped," a lavishly detailed painting of a white boat in the middle of a lake, fetched $25.9 million, surpassing the presale target and setting a record for 56-year-old Scottish artist.
"It's a very exciting week for the art market, for Christie's, for all of us," Patricia Barbizet, Christie's recently appointed chief executive officer, said earlier Monday at a meeting with reporters. "As you know Christie's is all about art and people. We are trying to connect more and more art to more and more people wherever they are."
Before it's here, it's on the Bloomberg Terminal.
LEARN MORE