Osborne Pledges to Be 'Resolute' on Overhauling European Union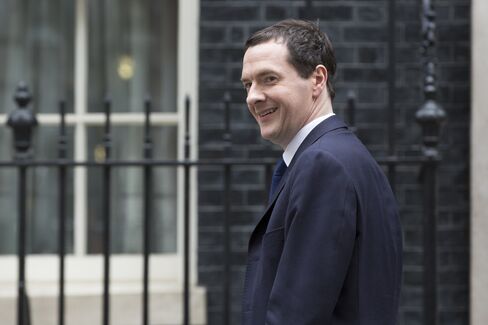 Chancellor of the Exchequer George Osborne set the tone for a looming confrontation between the U.K. and its European Union partners by underlining the new British government's determination to overhaul the 28-member club.
Brandishing his Conservative Party's five-day-old election victory, Osborne arrived in Brussels Tuesday telling fellow EU finance ministers that he and Prime Minister David Cameron intend to begin work on winning a better deal for Britain without delay.
"We come here with a very clear mandate to improve Britain's relationship with the rest of the EU and to reform the EU so that it creates jobs and increases living standards for all its citizens," Osborne said. "We go into the negotiations aiming to be constructive and engaged but also resolute and firm. No one should underestimate our determination to succeed."
Cameron made his pledge to renegotiate Britain's EU membership in areas such as migration and hold an in-or-out referendum by the end of 2017 a key part of his election campaign. Other European nations have already begun to signal limits on their willingness to bend to U.K. demands.
"If it's about discussing the functioning of the EU, this sort of discussion is possible," French Finance Minister Michel Sapin said Monday. "If it's about renegotiating treaties, you know the position of France. That's a completely different matter. In the current context, no treaty change, no constitutional debate."
Business Concerns
Osborne declined to comment on a report in The Guardian newspaper that the government may bring forward the referendum to 2016 to avoid a clash with French and German elections. "I don't think anyone is now in any doubt we will hold that referendum on British membership of the EU," he said.
British business leaders have urged the Conservatives to hold a referendum sooner rather than later, saying the uncertainty over Britain's future in the EU could deter foreign investors.
Polls show a mixed picture on British attitudes. Thirty-nine percent of voters are in favor of exiting against 40 percent wanting to stay, according to a Populus poll last month. The latest YouGov Plc poll gave supporters of staying in the EU a 12-point lead.
Bookmaker William Hill Plc puts the odds of the U.K. remaining in the EU at 1/2, suggesting the probability of the country staying in the EU is above 60 percent. The odds of an exit are 6/4. Both the Labour Party and the Liberal Democrats are pro-EU.
"I think that a British referendum on the question of European Union would result in a broad majority in favor of the European Union, I'm convinced of that," Austrian Finance Minister Hans Joerg Schelling said in Brussels.
Before it's here, it's on the Bloomberg Terminal.
LEARN MORE