Merkel Defends Arms Sales to Israel as Obligation for Nazi Past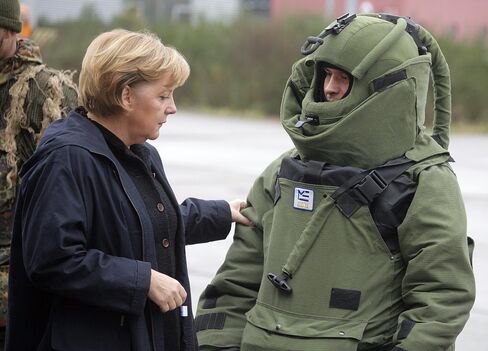 Chancellor Angela Merkel defended Germany's sale of weapons to Israel, saying her country has a responsibility to help protect the Jewish state given that 6 million Jews died under the Nazi regime in World War II.
"We sell weapons to Israel because we believe that Israel must defend itself and is often attacked," Merkel told students on Tuesday at a Berlin school. "We also believe that Germany has a special obligation to support Israel."
Israel announced plans on Monday to buy four German-built Saar 6 vessels to protect its offshore gas fields.
Even as Merkel has stood by Israel, condemning boycott actions within Europe last year, she's been critical of Israeli Prime Minister Benjamin Netanyahu's government and the country's settlements policy. The chancellor said she'll bring up German support for a two-state solution to the Mideast conflict during her meeting Tuesday with Israeli President Reuven Rivlin, who is on a three-day trip to Germany.
Rivlin, elected by parliament as Israel's ceremonial head of state last year to replace Shimon Peres, opposes Palestinian statehood.
"At the same time we insist -- and I'll also have a controversial discussion with the Israeli president -- that there should just as well be a Palestinian state," Merkel said in response to a student's question about German arms sales.
Before it's here, it's on the Bloomberg Terminal.
LEARN MORE