Italy to Disclose Details of Asset Sales Plans By End of June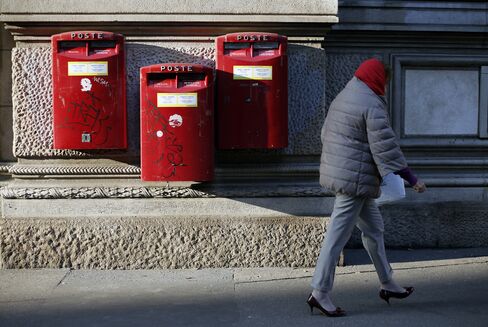 Italy will try to jump-start its privatization plans by providing potential investors with key details of assets such as the postal system and national railways by the end of June, Premier Matteo Renzi's economic adviser said.
"More information will become available in terms of timing, assets and actual quality of these assets," the head of economic policy in Renzi's Democratic Party, Filippo Taddei, said in a Bloomberg interview on Tuesday in Rome. He was commenting on the government's plans to sell partial stakes in state companies such as Poste Italiane SpA and Ferrovie dello Stato SpA.
Last month, Renzi pledged to forge ahead with privatizations to cut the euro region's second-biggest debt. Stake sales would net a sum equaling 1.7 percent to 1.8 percent of gross domestic product spread through 2018, according to the government's budget plan. That's down from a previous goal of an average about 0.7 percent of GDP each year.
Finance Minister Pier Carlo Padoan "has already made public that things have not moved at the pace that we were committed to," said Taddei, an assistant professor at the Johns Hopkins University Sais in Bologna. "If there is one front on which we have failed to deliver as promised it is precisely on privatizations."
Previous Attempt
In January 2014 the government led by Enrico Letta, Renzi's predecessor, committed itself to reviewing and being transparent on details such as the subsidies Poste gets from the state before its partial sale. It had originally planned the privatization for last year.
"We will not put on the market assets before clarifying what are the perks or the costs attached to those assets," Taddei said, commenting on aids such as pension relief Poste and Ferrovie both get from the state. "We do not want to run into error of the second type, which is that you place it on the market and it doesn't go well because you didn't set up the right requisites."
Italy has relied on foreign investors to fund growth at home in the past. China State Grid bought 40.9 percent of state-owned CDP Reti, a holding that owns 29 percent of Italian gas network Snam SpA and 30 percent of power network Terna SpA. In February Italy sold a stake worth 2.2 billion euros in Enel SpA, the country's largest utility.
Eni Stake
In March the Treasury said it's not planning to sell its stake of Eni Spa, Europe's fourth-biggest oil company. Taddei declined to comment on plans for the sale of Eni stakes.
With more than 13,000 offices across the country, Poste offers Italians both postal and financial services. In 2014, when it employed about 145,000 staff, the company posted annual revenue of 28.5 billion euros and a profit of 212 million euros.
With its more than 69,000 employees Ferrovie last year recorded revenue of 8.4 billion euros and a profit of 303 million euros. The privatization will boost investments, the company's Chief Executive Officer Michele Elia was cited as saying by la Repubblica in an interview on Monday. Ferrovie will sell its electricity network before the privatization, Elia said, according to Repubblica.
"Absolutely," Taddei said, when asked whether the government plans to announce next month changes to the structure and the organization of the companies it wants to privatize.
Before it's here, it's on the Bloomberg Terminal.
LEARN MORE