Rush of Chinese Money on Hong Kong Bourse Spurs Tax Windfall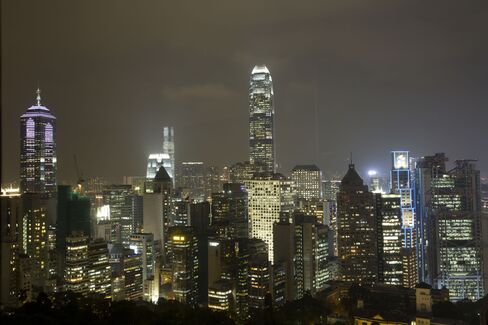 April was a good month for the Hong Kong taxman as a flood of Chinese money into the city's stocks almost tripled stamp duties on trading.
The taxman collected HK$400 million ($52 million) a day in April from trading duties as daily turnover on Hong Kong Exchanges & Clearing Ltd.'s equity markets surged to a record HK$291.5 billion, according to calculations by Bloomberg.
That may be just a start as China looks to expand a trading link between Shanghai and Hong Kong this year to include the southern city of Shenzhen. Better-than-expected revenue from stamp duty, including on property sales, has already helped prompt the government to revise its budget and hand out tax rebates for the fiscal year ended in March.
The government tends "to give away cash or other kinds of subsidies in a relatively piecemeal manner," said Ma Ngok, an associate professor of political science at the Chinese University of Hong Kong. "If a European elected government was sitting on this kind of surplus, they would be very happy and would have a bunch of big projects."
The budget surplus last year was so big that the Inland Revenue Department had said it will be able to return as much as HK$20,000 to every taxpayer. Hong Kong shares get taxed every time they change hands, so sudden surges in volume lead to spikes in income for the city.
Earnings Surge
HKEx today said first-quarter profit rose 34 percent from a year earlier to HK$1.58 billion, as the average daily turnover for equities climbed 17 percent. Analysts had expected net income of HK$1.74 billion, according to the median of three estimates compiled by Bloomberg.
Hong Kong imposes a 0.1 percent tax on the purchase or sale of stocks. The levy generated 9 percent of the city's revenue in the 2013-14 tax year -- the most recent for which detailed data are available -- about 14 percent more than in the previous 12 months.
"The stamp duty collected and other government revenues will be pooled together to fund all public services and programs," Fletch Chan, a spokesman for the government's financial secretary, wrote in an e-mail.
Stamp duty from property transactions and share trading made the biggest contribution to the surplus last year. Greater-than-expected revenue from taxes on corporate profits, incomes and land also helped.
Stock Connect
While trading volumes on the Hong Kong bourse had steadily increased in the year through March, they have since exploded. Since the beginning of April, a greater number of mainland investors have used the electronic link to buy Hong Kong equities, following a regulatory change. The territory's Hang Seng Index has extended its rally from the start of the year to 16 percent.
Net purchases -- buying minus selling -- reached the daily maximum allowed through the link on April 8 and 9, the first time that has happened since the connection opened in November last year. The Chinese authorities only allow mainland investors to make net purchases of 10.5 billion yuan ($1.7 billion) a day through what's been called the Stock Connect.
Turnover on the Hong Kong bourse yesterday was HK$136 billion, down from its peak on April 9, though still almost double last year's daily average.
In addition to stamp duty, investors pay about 0.15 percent -- 15 basis points -- to brokers, 0.5 basis points to the exchange, excluding settlement costs, and 0.27 basis points to the Securities and Futures Commission, the market regulator, according to Romnesh Lamba, HKEx's co-head of global markets.
Nevertheless investors are not deterred by the costs of trading in Hong Kong.
"Everyone is looking at costs, but when it comes to China and Hong Kong, investors are more concerned about access and alpha," or profits, said Stephane Loiseau, head of cash equities and global execution in Asia-Pacific at Societe Generale SA. "Costs may become a story in a few years once things start to mature, but at the moment it's more a story about volume, turnover, valuation, performance."
Before it's here, it's on the Bloomberg Terminal.
LEARN MORE