Greek Euro Exit Risk Gets You Down? Find Relief in Bulgaria Debt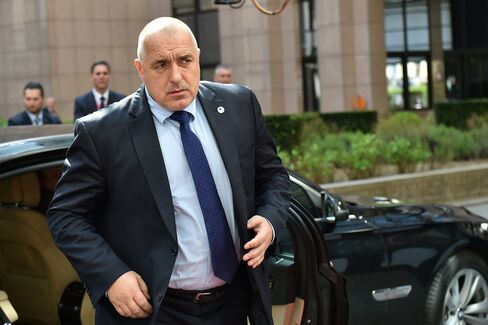 Investors worried about Greek contagion might take comfort in neighboring Bulgaria.
With more banks under Greek ownership than in any other nation in the European Union and a banking crisis a year ago, Bulgaria is the most vulnerable in the region to a Greek meltdown, Morgan Stanley wrote in a report this week. Yet, as the EU threatens to cut the funds keeping Greece afloat, Bulgarian bonds are outperforming German bunds.
While stocks and bonds tumbled worldwide this week as the possibility of a Greek default added to the risks from rising U.S. interest rates, Bulgaria has been partly shielded by one of the EU's lowest public-debt burdens and government plans to cut the budget deficit. Rising deposit levels and profits have made the nation's banking industry more resilient than a year ago.
"The risks for Bulgaria aren't negligible, but I see them as being well contained," said Dmitri Barinov, a money manager at Union Investment Privatfonds GmbH in Frankfurt. He holds more of Bulgarian Eurobonds than their weighting in benchmark indexes among the $2.6 billion of assets he helps oversee. "We've been talking about Grexit for so long that most economic players are fully aware and prepared," Barinov said by phone on Tuesday.
Morgan Stanley analysts Georgi Deyanov and Pasquale Diana said in the report that Bulgaria, Romania and Serbia may have to counter "large deposit outflows" from the units of Greek banks if Europe's most-indebted nation defaults and sheds the euro. The bailouts could in turn strain public finances, they wrote.
Greek Banks
Bulgaria, the EU's poorest nation, has 28 percent of its bank assets in Greek hands, about double the share in Serbia and Romania, government data show. Last June, authorities in Sofia rescued the third-largest lender and closed the fourth-largest bank, both locally owned, to stem a run on deposits.
To mitigate the risks, the central bank in Sofia asked the units of Greek banks earlier this year to sell all Greek assets. United Bulgarian Bank, controlled by the National Bank of Greece SA, has met the request, Plamen Madjarov, markets manager at the lender, said by e-mail on Monday. Greece's euro exit would have no impact on Bulgaria's banking sector, Madjarov said.
Local regulations mean that "the Greek parent can't simply take cash out at will," Richard Segal, head of emerging-market strategy at Jefferies in London, said by e-mail on Monday.
Government Debt
Household deposits at Bulgarian lenders climbed 4.6 percent from a year earlier in February and the industry's total profits jumped 24 percent in the period, according to central-bank data. Sentiment toward the sovereign bonds is also helped by Premier Boyko Borissov's pledge to cut the budget gap to 3 percent of gross domestic product this year from 3.7 percent in 2014.
The government's debt, at 30 percent of GDP, is the lowest in the EU after Estonia and Luxembourg and compares with the EU average of 88 percent and 180 percent in Greece, according to European Commission estimates for this year.
The extra yield on the 1.49 billion euros ($1.7 billion) of notes from Bulgaria due September 2024 over German bunds fell to a five-month low of 190 basis earlier this month. The spread stood at 192 basis points on Wednesday by 5:44 p.m. in Sofia, down from a peak of 230 basis points in April.
The cost of protecting the nation's debt with credit-default swaps has been steady since it rose to a two-month high of 165 basis points on Monday, data compiled by Bloomberg show.
Romania's October 2024 euro-denominated securities traded 181 basis points above Germany, little changed from a month ago and compared with the average of 177 basis points over the past six months.
ECB Backstop
Bond prices show most investors don't expect Greece to default and leave the euro area, according to Regis Chatellier, a London-based director of emerging-market credit strategy at Societe Generale SA. The European Central Bank's stimulus props up demand for higher-yielding assets such as Bulgarian and Romanian bonds, he said by e-mail on Tuesday.
While Greece's euro exit could put banks in Bulgaria and Romania "somewhat under pressure," the EU and the ECB would implement some measures to prevent contagion, Chatellier wrote.
"The fact that there is ECB quantitative easing certainly acts as a backstop for the market," he said.
Before it's here, it's on the Bloomberg Terminal.
LEARN MORE