Last Week Goldman Said AOL Is Worth Much Less Than Verizon's Offer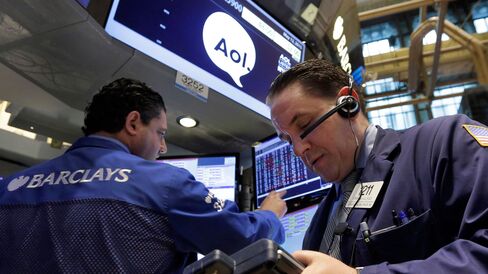 If you're prone to skipping right over the "risks to our thesis" section of analysts' notes, here's Exhibit A of why you may want to rethink that habit.
"The most significant upside risk with AOL is it potentially getting acquired in whole or in parts," Goldman Sachs Group Inc. analyst Debra Schwartz wrote in a note last week.
Upside risk, indeed! As evidenced this morning by a surge in AOL's stock after Verizon Communications Inc. offered to buy the company for $50 a share, a 17 percent premium to the closing share price on Monday.
Sadly for Schwartz, it's also a 32 percent premium to the 12-month price target of $38 she put on the stock after downgrading it to sell on May 5. She didn't immediately respond to an e-mail and phone message seeking a comment.
The upside risk was so great, in fact, that other Goldman analysts put AOL on their "Strategic M&A Candidate List," dropping it in a bucket of companies with a 15 percent to 30 percent chance of being taken over.
Schwartz's rationale for advising to sell the stock was, in a nutshell, that AOL wasn't Facebook Inc. or BuzzFeed. Facebook's advertising platform threatened to steal market share from AOL's, while media companies like BuzzFeed and Vice Media were taking "audience mindshare."
'Mindshare'
Fair enough. As many media companies are learning the hard way these days, it's tough to compete for "mindshare" with high-brow posts like "Watch This Baby Goose Make The Most Adorable Crash Landing" and "Rob Ford's Party Pal Acquitted of All Drug Charges."
Still, the Goldman call for an adorable crash landing in AOL stock was somewhat of an anomaly. Of 23 analysts covering the shares, only one other rates it the equivalent of sell and the average price target is more than $10 higher than Goldman's.
Cantor Fitzgerald, for example, raised its price estimate on AOL to $47 from $45 on May 8 and said its first-quarter results showed the company is making good "progress on its transition to programmatic, video and global platforms," and may soon start reaping the benefits of its investments, divestitures and sales reorganization.
Schwartz said in her report that she would get more positive on the stock if she saw "an accelerated pace of public-to-public M&A in the space or a path toward finding interested strategic or private equity buyers."
That path is clear now!
Before it's here, it's on the Bloomberg Terminal.
LEARN MORE