GoDaddy's First Results Since IPO Spark Growth Concerns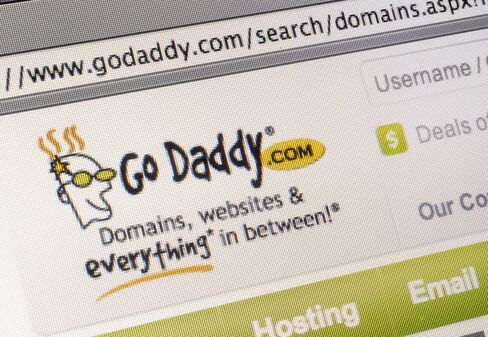 GoDaddy Inc. shares declined after its first earnings report as a public company sparked investor concern over its growth prospects.
First-quarter sales rose 18 percent to $376.3 million, compared with analysts' projection of $373.7 million, according to data compiled by Bloomberg. GoDaddy's net loss narrowed to $43.4 million, or 34 cents a share, from $51.3 million, or 40 cents, a year earlier, the company said in a statement Tuesday.
In an earnings call, Chief Executive Officer Blake Irving faced questions over GoDaddy's ability to retain overseas customers, because some countries forbid automatic renewals, unlike the U.S. International sales were $95.9 million in the first quarter, about 25 percent of total revenue. Analysts also questioned how the company would fare as consumers go directly to smartphone applications, rather than websites, to get online content.
"Our retention globally is very good," Irving said, adding that retention rates abroad were similar to the U.S.
Second-quarter sales will be $390 million to $395 million, compared with analysts' average projection for $390 million, the company said.
The shares of GoDaddy declined 2.9 percent in extended trading. The stock closed at $26.77 in New York for a gain of 34 percent since its March 31 initial public offering.
Marketing Dollars
In the U.S., GoDaddy has used high-profile advertising campaigns to attract customers who increase their spending over time, said Jason Helfstein, an analyst at Oppenheimer & Co. More than 500,000 clients spend upward of $500 a year on services such as online stores, he said. The company has a total 13.1 million customers.
Now that GoDaddy is public, Irving will need to show that the focus on small businesses will continue to fuel growth. The Scottsdale, Arizona-based company has to maintain an expensive marketing budget because smaller companies tend to be less stable than larger ones, meaning it has to replace customers that go out of business. More targeted marketing is helping distinguish GoDaddy, Irving said in an interview.
"We're investing in a very focused evolution of the brand, making sure people know what we do and who we do it for," Irving said. "We are taking a very big swing at changing that brand perception."
Founded in 1997 by Bob Parsons, GoDaddy raised its profile with often risque Super Bowl commercials. In recent years, the company's ads featured celebrities including race-car driver Danica Patrick and Israeli model Bar Refaeli.
The company raised $460 million in its IPO. Private-equity firms Silver Lake Management and KKR & Co. acquired a majority stake in GoDaddy in 2011.
Before it's here, it's on the Bloomberg Terminal.
LEARN MORE