Merkel Comes Up Empty as German-U.S. Spy Talks Go Nowhere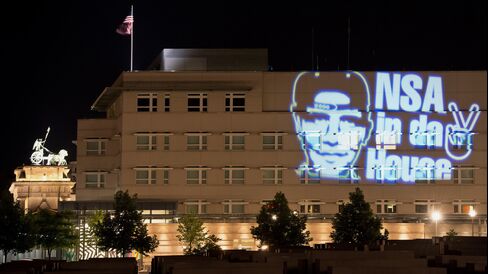 Chancellor Angela Merkel has little to show for an effort begun a year ago to limit American spying in Germany as talks between the two countries on U.S. surveillance have run aground.
Meant to calm German outrage over alleged American espionage, the negotiations have been further hampered by the latest reports in Germany that the country's BND foreign-intelligence agency collaborated with the National Security Agency to help the U.S. spy on European allies and companies, said a person familiar with the matter, who asked not to be identified discussing sensitive talks.
Merkel's office told Bloomberg on Monday that there's "no new state of affairs" since her chief of staff, Peter Altmaier, said in an interview in February that only preparatory work had taken place to start the dialogue with U.S. officials, which was announced last July.
The lack of progress reflects Merkel's tough balancing act between Germany's alliance with the U.S. -- including in intelligence gathering, which she publicly defends -- and scrutiny at home about the legality of those operations as well as her own government's involvement. It also reveals the frayed nerves between her aides and White House officials as the chancellery seeks to hand over shared intelligence to lawmakers amid questions over how much the German government knew about U.S.-German spying.
The dispute has dragged on for two years with reports of NSA mass surveillance, the alleged tapping of Merkel's mobile phone and a spat that prompted the departure last year of the top U.S. intelligence officer in Berlin.
Close Contact
"We're in close contact, not only with our American partners but with others as well," Steffen Seibert, Merkel's top spokesman, said Monday during 45 minutes of questions on whether the government misled the public on an agreement with the U.S.
After the most recent reports that the NSA had fed the BND "selectors," such as phone numbers and e-mail addresses, needed to track European allies, chancellery officials are seeking clearance from U.S. intelligence to release a list of the search terms to a parliamentary inquiry into the matter. The German government expects a reply next week from the Americans, the person said.
"High-level conversations with the Germans on these topics began last year and are continuing," Edward Price, a spokesman for the U.S. National Security Council, said Monday.
German frustration with the U.S. response was illustrated by a May 8 report in Sueddeutsche Zeitung, which said the White House consistently rebuffed request from Merkel's office for legal guarantees and an agreement to refrain from spying on one another.
Pledges
That report, citing internal communications between the chancellery and the White House, led to accusations this week that top German officials in 2013 misled the public about the prospect of reaching a so-called "no-spy" accord.
Merkel said her aides "acted according to the best of their knowledge."
Pledges on a no-spy agreement made by German officials following disclosures by former NSA contractor Edward Snowden were based on an unspecified offer from the U.S., Seibert said. Failing to reach a deal, Germany gave up on such an arrangement by April of last year, he said.
Merkel, who said she's ready to testify in parliament over the latest allegations, acknowledged on Monday that holding U.S. intelligence to account in Germany wouldn't be easy.
"It's self-evident to me that intelligence services must obey German law if they operate here," she told reporters. "That can be difficult and take longer than one would wish, but it remains for me the political goal."
Before it's here, it's on the Bloomberg Terminal.
LEARN MORE