Euro Debt Rout Deepens as Commerzbank Says Don't Be a Hero Yet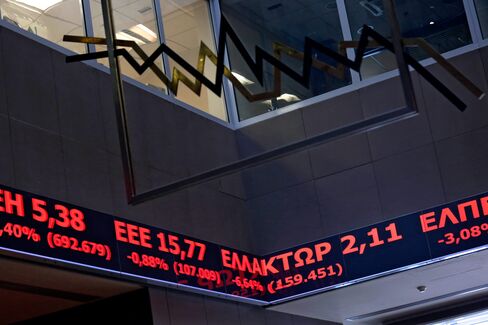 As the selloff in euro-area government bond markets deepens, the top-ranked primary dealer for German debt says now is not the time to be a hero by betting on a reversal.
Bonds across the currency bloc tumbled as the biggest jump in U.S. Treasury 10-year yields since Feb. 6 on Monday cowed investors preparing for debt sales this week. The Netherlands auctioned 2.4 billion euros ($2.7 billion) of 10-year bonds on Tuesday, while Germany sold index-linked debt due in April 2026. Italy is scheduled to offer as much as 7 billion euros of securities on Wednesday.
"What's new in this is that now it seems to be the U.S. side of things driving things lower," said Christoph Rieger, the Frankfurt-based head of fixed-income strategy at Commerzbank AG, which is ranked first among dealers by the nation's debt agency. "With the supply that is coming up, which is certainly a factor, the market still may be tempted to test the lows. Now is not the time to be bold."
German 10-year bund yields climbed six basis points, or 0.06 percentage point, to 0.67 percent at 4:55 p.m. London time, within 10 basis points of the highest level this year. The yield has surged from a record-low 0.049 percent set as recently as April 17. The 0.5 percent security due in February 2025 dropped 0.595, or 5.95 euros per 1,000-euro face amount, to 98.365.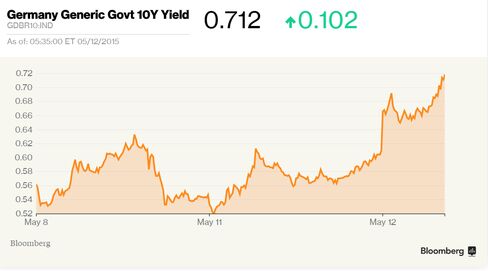 The market remains vulnerable to more selling in the coming weeks, yet yields should decline by the middle of the year, Commerzbank's Rieger said.
Italy's 10-year bond yield increased eight basis points to 1.85 percent and Spain's jumped eight basis points to 1.83 percent.
ECB Program
Bonds have been slipping as investors turn against record-low yields and weigh the possibility the European Central Bank may end its quantitative-easing program sooner than it has indicated or cause too great a squeeze on supply.
The euro-region's government securities lost 1.4 percent in April, the first monthly drop since December 2013, according to Bloomberg World Bond Indexes. As that decline extends into May, investors are questioning how far it will go.
"We are certainly not counting on a big revival of interest rates," Dieter Wemmer, chief financial officer at Allianz SE, Europe's biggest insurer, said in an interview on Bloomberg Television's "Countdown" with Mark Barton. "It seems there are some market forces that tried to pre-empt the QE activities of the European Central Bank and therefore we see now probably waves of market distortion between QE and other acting forces."
Before it's here, it's on the Bloomberg Terminal.
LEARN MORE