Draghi QE Turns Stocks Into Bond Appendage as Correlation Jumps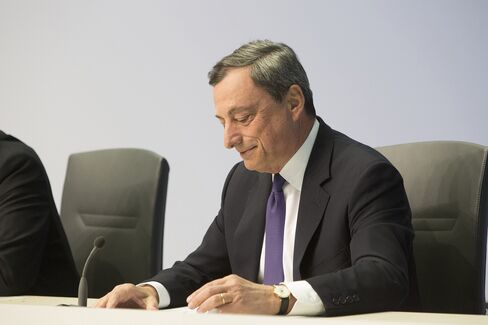 Mario Draghi's quantitative-easing program is tying together the fate of Europe's stock and bond markets to a degree not seen in almost two years.
Since the European Central Bank president began buying government debt, the correlation between moves in the Euro Stoxx 50 Index and a gauge tracking the region's bonds has climbed to its highest level since September 2013. While that served bulls when fixed-income markets gained to start the year, lately it's been all downside with equities following bonds to a loss of 6.7 percent.
The power with which signals from other markets still push stocks up and down in Europe is a frustration for investors waiting for equities to start reacting to influences such as earnings and takeover prospects. The stronger relationship between the asset classes is what's exacerbating declines in shares, according to UniCredit Bank AG's Christian Stocker.
"This is the main reason for the risk-off," said Stocker, a strategist in Munich. "The trend in bond prices has turned, and the euro is gaining some strength. With fading stimuli from the FX side, profit taking in equities prevails."
For the first time this year, investors withdrew money from European equity funds, pulling $1.5 billion in the week ended May 6, according to EPFR Global data cited by Bank of America Corp. Government-bond funds lost $480 million in the same period, as investors turned against record-low yields and weighed the possibility that the ECB may end its QE sooner than indicated or cause too great a squeeze on supply.
The Euro Stoxx 50 fell 0.6 percent on Wednesday, down for a third day.
DAX Decline
After a 22 percent rally this year through an April peak, the Euro Stoxx 50 reached a valuation of 16.5 times the estimated earnings of its members. That was the highest multiple in at least a decade. Now the stocks gauge trades at 15.5 times, after a surge in yields pushed the euro higher, prompting a selloff in shares of exporters who benefited from a weaker currency earlier this year.
German equities, among the best performers in developed markets in the first three months of 2015, are some of the biggest losers this quarter. The DAX Index has lost 7.3 percent from its record in April, with carmakers Volkswagen AG and BMW AG falling more than 9 percent. At the same time, the yield on 10-year bunds has surged 14 times in less than a month.
Lockstep Moves
The 60-day correlation between the Euro Stoxx 50 and the Bloomberg Eurozone Sovereign Bond Index was at 0.5 on Tuesday, up from less than 0.1 on March 10, at the start of the ECB's QE program. A coefficient of 1 means asset classes move in unison.
There is precedent for stocks declining with bonds. The Euro Stoxx 50 fell with the Standard & Poor's 500 Index and bonds in 2013, after the Federal Reserve signaled that it may start winding down its purchases of government debt. The European equity index reached a seven-month low on June 24 of that year.
"With the low/negative interest rate environment, the moves from bonds into equities have been more pronounced than before, making the two markets more interconnected," said Espen Furnes, who helps oversee $85 billion at Storebrand Asset Management in Oslo. "A continuing strong upward move in interest rates has usually been a warning signal for equities."
Before it's here, it's on the Bloomberg Terminal.
LEARN MORE