Deutsche Post Halts Software Rollout on Freight-Forwarding Drag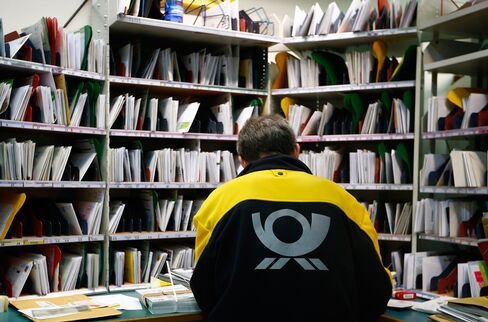 Deutsche Post AG is pausing the rollout of new software in its freight-forwarding business after difficulties with the technology contributed to a surprise earnings drop in the first quarter.
"It was too complex, and we have some good ideas how we can reduce complexity," Chief Financial Officer Larry Rosen said on a conference call Tuesday, adding the company won't introduce the software beyond initial countries until the issue is solved.
Earnings before interest and taxes unexpectedly fell by 1 percent from a year earlier to 720 million euros ($806 million), the Bonn-based company said in a statement. That missed the 737 million-euro average estimate of analysts surveyed by Bloomberg. Ebit dropped 65 percent to 17 million euros in the freight-forwarding business.
Deutsche Post is adding capacity at express hubs and sorting centers and installing SAP SE software in freight-forwarding as economic growth remains subdued. That project, one of the key priorities for this year, turned out more challenging than expected, the company said in March, and two weeks ago Roger Crook, who headed the freight-forwarding business, resigned for what the company called personal reasons.
Deutsche Post shares fell 2.8 percent to 28.93 euros at 9.32 a.m. in Frankfurt, paring the advance to 7 percent this year and valuing the company at 35 billion euros.
Continuous Drop
The freight-forwarding business had its sixth consecutive quarterly decrease in Ebit. Stabilizing the unit and analyzing performance in countries where the new software is already running is a top priority, the company said. CFO Rosen said the unit's performance will improve in the second half.
In the supply-chain business, investments that caused operating profit to decline by 38 percent will start to pay off from the second quarter, Rosen said.
Deutsche Post, which claims the No. 1 spot in air-freight forwarding, said first-quarter volume in that division rose 0.3 percent, while ocean freight advanced 2.3 percent.
Ebit for the group will rise to between 3.05 billion euros and 3.2 billion euros this year, and to 3.4 billion euros to 3.7 billion euros in 2016, the company reiterated.
First-quarter revenue climbed 8.8 percent, and 2.1 percent when stripping out effects from currency fluctuations.
Deutsche Post is locked in a conflict with trade union Ver.di, which has staged a series of warning strikes after the company said it will hire parcel delivery personnel under a collective bargaining agreement that pays less than the one covering its current workers.
Before it's here, it's on the Bloomberg Terminal.
LEARN MORE