China Ditches Feng Shui For Avant Garde Show At Venice Biennale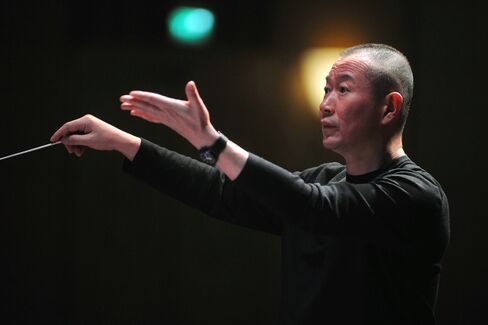 China's bid to add cultural reach to its economic and military might is getting a rethink. To see how, look to the country's pavilion at this year's Venice Biennale.
Among the works featured is "Nu Shu: the Secret Songs of Women," a symphonic documentary by Tan Dun, whose score for the movie "Crouching Tiger, Hidden Dragon" made him the first Chinese musician to win an Academy Award.
Tan's latest piece is esoteric: Thirteen short films set to music inspired by the singsong language used only among women in the mountains of his native Hunan province. It's a far cry from the accessible fare China's propaganda bosses sanctioned for past Biennales, one of the world's premier art festivals.
"We would've been too edgy for them to consider, and not mainstream enough from the official point of view," Tan, 57, said in an interview. The inclusion of his piece represents a "very promising starting point."
For the first time since China joined the Biennale in 2003, the Ministry of Culture hired a private arts group, the Beijing Contemporary Arts Foundation, to curate its exhibit. It reflects the Communist Party's desire to present a more sophisticated image to the world, even as President Xi Jinping tightens scrutiny over artists at home.
It's also an acknowledgment that China's decade-old "soft power" push hasn't offset unease about its economic and military clout. Despite billions of dollars spent on state media bureaus and cultural centers at foreign universities, the majority of people in countries like Germany, Italy and the U.S. view China negatively, according to surveys by the Pew Research Center.
Private Partners
"The authorities commissioned us to organize the show because they'd like to destroy the traditional pattern of going about culture," Cui Qiao, the arts group's president, said in an interview in Beijing. "The government now wants to look for private partners because they realize that's where vitality lies and that's the most effective way."
The ministry selected the foundation from more than two dozen applicants to curate its pavilion at the Biennale, which began Saturday and runs until November. The group organized a Sino-Franco cultural forum last year to mark 50 years of diplomatic ties between the two countries.
The ministry's willingness to enlist the private sector was also seen in its recent sponsorship of Lunar New Year promotions in the U.S. with Anheuser-Busch InBev NV and the National Basketball Association. In March, the Discovery Channel premiered "How China Works" under a three-year deal to produce programming with "support and guidance" from the State Council Information Office.
Such partners face the task of pleasing government censors while appealing to international audiences skeptical of anything overtly pro-government.
Confucius Institutes
"It seems unlikely that the state can disengage enough to provide a platform to a diverse palette of bottom-up expressions of contemporary Chinese culture," said Sebastian Veg, director of the French Center for Research on Contemporary China.
Since 2004, China's chief soft power vehicle has been its Confucius Institutes, with some 475 branches of the cultural centers set up in 126 countries. Branches have been forced off university campuses from Chicago to Stockholm after locals protested them as party propaganda tools.
Global audiences are also aware that China's internal control of the media and creative arts is more restrictive. Since taking power, Xi has instituted the country's biggest media censorship and crackdown on dissent in at least two decades.
China blocks some foreign websites and monitors citizens' accounts, even banning words or phrases censors consider too critical. In October, Xi hosted a cultural forum in Beijing in which he urged artists to produce "moral works" that "present socialist core values."
Global Image
The country's previous Biennale pavilions have been criticized for being unimaginative and parochial, focused on well-worn Chinese elements such as Feng Shui and Chinese tea.
The foundation sought to project a more international image with this year's exhibit, titled "Other Future," Cui said. Besides Tan, who's an UNESCO goodwill ambassador, it showcases the works of avant-garde architect Liu Jiakun and documentary filmmaker Wu Wenguang.
Tan, who splits his time between New York and Shanghai, said he wants to rebuild Chinese traditions eroded during the political turmoil of the last century. Doing so requires less government intervention in the arts.
"I always look to build artistic links between extremes: tradition and hi-tech, the East and the West," he said. "Ideology is not my language, art is."
Before it's here, it's on the Bloomberg Terminal.
LEARN MORE