Buy-Brazil Rules Said to Be Eased in Plan to Spur Oil Projects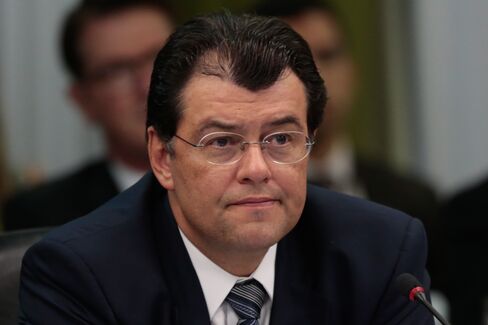 Brazil is preparing to ease limits on foreign-built oil equipment to reduce development bottlenecks that are being exacerbated by a graft case involving local suppliers, said a person with knowledge of the plan.
They would be the first changes to a Buy-Brazil model introduced a decade ago to kick start industry in the country. It comes as production growth increasingly relies on costlier equipment to drill deeper in the South Atlantic at a time companies face an investment slowdown and a credit squeeze.
A local-content list that today covers 73 items will be updated, shortened and simplified, said the person, who asked not to be named because details aren't public. Changes would apply to new licenses and could be presented as soon as June by the energy ministry and the hydrocarbons regulator, ANP.
"The reality has changed," Energy Minister Eduardo Braga said in a May 3 interview from an conference in Houston, where he and ANP head Magda Chambriard discussed ways to attract foreign investment. "There's no way Petrobras can do all the investments needed for the Brazilian economy."
The government is considering changes to both local-content requirements and regulations for developing the giant pre-salt discoveries.
Changes to pre-salt rules, which require the state-run producer, known formally as Petroleo Brasileiro SA, to own at least 30 percent of projects and operate them, would need congressional approval. Local-content adjustments need authorization from the Energy Ministry's National Energy Committee, which advises President Dilma Rousseff.
Under the local-content proposal, new items will be included, others removed and items such as pumps will be grouped into fewer categories, resulting in a lower average requirement, the person said. The energy ministry and ANP didn't provide comment when asked about details of the proposal.
'Reality Changed'
At last week's Offshore Technology Conference, Braga and Chambriard told an audience of foreign companies and investors that they are preparing a joint proposal on local content to be presented in 30 to 60 days, declining to give details. Both said the policy would be altered rather than removed.
The current rules, first applied in an oil licensing auction in 2005, were created by Rousseff and former Petrobras Chief Executive Officer Maria das Gracas Silva Foster when in early the 2000s they were energy minister and oil and gas undersecretary, respectively.
Discussions about possible changes gained strength after Foster, a close Rousseff ally and her main adviser on local content, left Petrobras in February, a month after Braga began his term as minister.
Breach Fines
The so-called Carwash scandal -- in which some of the country's largest contractors and oil suppliers are facing allegations they formed a cartel and paid kickbacks to Petrobras executives and politicians -- exposed the downside of depending so heavily on local industry.
Even before the scandal, companies struggled to meet requirements. Earlier this year, BG Group Plc. paid 192.5 million reais ($71 million) in fines for breaching local-content rules in 2005.
Jorge Camargo, who heads Brazil's Petroleum Institute, said that while he has no knowledge of the proposal, just the fact that changes are being discussed is positive.
"It shows they understood that local-content policy needs to be considered under the new circumstances," Camargo said in an interview in Houston last week.
Before it's here, it's on the Bloomberg Terminal.
LEARN MORE