Brady's Suspension Makes Patriots More Beatable at Vegas Books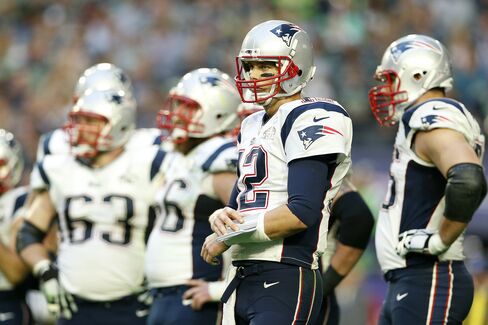 The New England Patriots are favored to beat the Pittsburgh Steelers in the National Football League's season-opening game, even without Tom Brady. Their odds of repeating as Super Bowl champions have gotten longer with the prospect of losing their quarterback for the first four games.
The Super Bowl-champion Patriots have been re-listed as two-point favorites over the Steelers for the Thursday night opener on Sept. 10 in Foxborough, Massachusetts, according to the Westgate Las Vegas SuperBook. The Patriots had been favored by six to 6 1/2 points when the SuperBook and others took down odds last week because of speculation Brady could be suspended.
Brady got a four-game ban from the NFL on Monday for his involvement in the team's deflated-football controversy, while the Patriots were fined $1 million and stripped of two draft picks, including a first-round selection in 2016. Brady will appeal the ruling.
Jeff Sherman, assistant manager at the SuperBook, said not many players in the NFL can affect a single-game betting line as much as Brady, a two-time league Most Valuable Player who has a career 160-47 regular-season record as a starter.
"It just depends on who the backup is," Sherman said via e-mail.
Second Stringer
The Patriots' second-string quarterback is Jimmy Garoppolo, a second-round draft pick in 2014 who has appeared in six games, completing 19 of 27 passes for 182 yards, one touchdown and no interceptions. The Patriots went 11-5 in 2008 with Matt Cassel at quarterback after Brady tore a knee ligament in the team's season-opening win.
The drop from Brady to the untested Garoppolo would be similar to the Denver Broncos having to replace Peyton Manning, a five-time NFL MVP, with backup Brock Osweiler, Sherman said.
"Brady could be worth as much as a touchdown," said Johnny Avello, the director of race and sports operations at the Wynn in Las Vegas, who doesn't put up odds on NFL games until after the preseason. "Maybe 10 points if it wasn't for Bill Belichick," he added, referring to the Patriots' four-time Super Bowl-winning coach.
Brady would become the first starting quarterback from a reigning Super Bowl-winning team to miss the ensuing season opener since 2006, when Ben Roethlisberger of the Pittsburgh Steelers had an emergency appendectomy.
Reduced Ban
Sherman said SuperBook oddsmakers expect a reduction of Brady's suspension and haven't re-posted odds on the Patriots' fourth game, an Oct. 11 matchup against the Dallas Cowboys. Brady also could miss games against the Buffalo Bills and Jacksonville Jaguars.
"If it's four games, they might not get off to a great start, but there's still a lot of time after that," said Avello, who moved the Patriots' odds of winning the Super Bowl to 9-1 from 7-1, making them the second favorite behind the Indianapolis Colts (7-1).
The Patriots' odds of winning their division have been slightly adjusted at the SuperBook, to 5-8 from 4-9. The Miami Dolphins remain the second choice in the American Football Conference East Division, moved to 7-2 from 4-1 a week ago.
10 Wins
The over/under betting line for Patriots wins is 10. A week ago sports books required bettors to wager $130 to win $100 that the team would win 11 or more games. That price has dropped: Bettors now can wager $100 to win $130.
Brady was banned for conduct detrimental to the integrity of the NFL five days after investigators commissioned by the league said he probably was "at least generally aware" that two Patriots staffers deflated game balls to below the league's minimum air pressure before last season's AFC Championship Game against the Colts.
Brady's agent, Don Yee, said the discipline is "ridiculous and has no legitimate basis."
Jimmy Vaccaro, the director of sports operations at Lucky's Race and Sports Book in Las Vegas, said many oddsmakers are taking a wait-and-see approach with odds, based on what happens with Brady's appeal.
"If he wins his appeal and it goes to two games, that's why it's hard to make other things off this," Vaccaro said by phone. "You have to adjust after you know exactly what the penalty is. A four-game ban would be significantly different potentially than a two-game suspension."
For more, read this QuickTake: NFL, America's Soapbox
Before it's here, it's on the Bloomberg Terminal.
LEARN MORE