Lower Iron Ore Prices Are Here to Stay Warns BHP CEO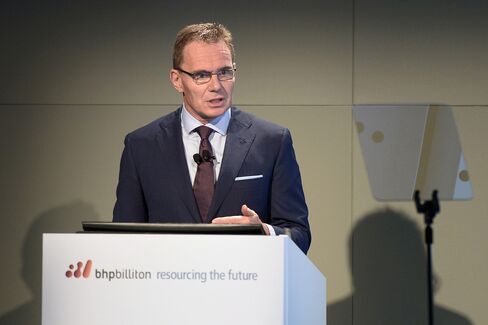 Lower iron ore prices are here to stay as new mine production outpaces weaker growth in demand, according to the world's biggest mining company.
"The growth in demand for iron ore is happening at a slower rate than the addition of low-cost supply," BHP Billiton Ltd. Chief Executive Officer Andrew Mackenzie said in a phone interview from Barcelona. "We're bearish about iron-ore prices in the medium-to-long term."
Iron ore has collapsed 53 percent since the start of 2014 as top suppliers including BHP expanded output to squeeze out higher-cost competitors, deepening a worldwide glut of the key raw material used in steel. Analysts from Goldman Sachs Group Inc. to Morgan Stanley and UBS AG have trimmed long-term price forecasts this year as the outlook for the market worsens.
"He makes very sensible and accurate comments," Richard Knights, a London-based mining analyst at Liberum Capital Ltd., said by phone. "There's just a huge amount of overcapacity. It's very clear that for at least the next three years the new supply additions are going to drastically outstrip any incremental demand growth."
At least 350 million metric tons of new supply is scheduled to enter the market through 2018, according to Bloomberg Intelligence. China, the biggest consumer, imported 307.3 million metric tons of iron ore in the first four months of the year, a 0.7 percent increase on the same period a year earlier.
Price Inquiry
Additions to supply by producers including BHP and Brazil's Vale SA have brought criticism from competitors, as well as governments that see their natural resources being sold off cheaply.
Australia's Senate will be asked on Thursday to authorize an inquiry to examine the price collapse that would seek evidence from suppliers including BHP and Rio Tinto Group, independent senator Nick Xenophon said by phone.
"We need to look at issue of whether market behaviors have been problematic," said Xenophon, who has proposed the inquiry. "Whether the iron ore price has been artificially depressed as a result of behavior of some of the key market participants."
If approved, the planned inquiry would also study the impact on Australia's tax revenue, Xenophon said. The decline is projected to cut tax receipts by about A$20 billion ($16 billion) next fiscal year, according to Treasurer Joe Hockey.
$16 a Ton
To counter the price slump, BHP has focused on cutting costs and Mackenzie has outlined a new target that would allow the company to compete with Rio as the lowest-cost supplier.
BHP wants to cut costs by 21 percent at its Western Australian operations to $16 a metric ton in fiscal 2016. Rio is mining for $17 a ton, CEO Sam Walsh said in April.
Fortescue Metals Group Ltd., the fourth-largest supplier, is targeting $18 a ton under the same measure, which it said includes mining, processing, rail and port costs.
"I definitely would say it is not the floor," Mackenzie said in the interview Tuesday, referring to BHP's $16 target. "The long-term strategy has to be to continue to drive costs lower where you can through productivity and technology."
BHP's total capital spending will be cut to $9 billion in fiscal 2016 -- the lowest since fiscal 2008 -- from $12.6 billion in the year ending June 30.
Infrastructure Expansion
London-based Rio is also continuing to focus on reducing costs, Walsh said yesterday in a presentation at a conference in Barcelona hosted by Bank of America Merrill Lynch.
The producer will complete an infrastructure expansion within weeks and doesn't currently foresee further investment aimed at raising volumes, he said.
"The only way you could see a reversion to significantly higher prices would be have a large amount of existing capacity permanently taken off line," Liberum's Knights said. "It's difficult to see how that happens."
Before it's here, it's on the Bloomberg Terminal.
LEARN MORE