Abbott Rules Out Early Poll as Budget Aims to Buoy Rating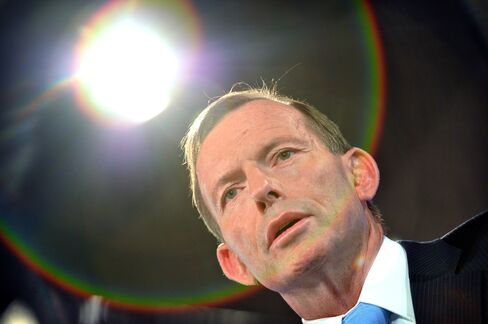 Prime Minister Tony Abbott said Wednesday he's determined to lead his government to a full term, dismissing speculation his second budget was aimed at cementing his political revival in preparation for an early election.
Abbott's coalition announced a tax cut for small Australian businesses and a A$3.5 billion ($2.8 billion) package to make childcare more affordable in Tuesday's budget, a year after widespread spending cuts triggered a precipitous plunge in the government's poll ratings.
"This government always planned to run full term," said Abbott, who survived a leadership challenge from his own lawmakers in February. The election would be held "about the middle of next year," he said in a Channel Nine television interview.
The government is betting the budget will restore business and consumer confidence and is seeking to strike an optimistic chord with the electorate, backing away from last year's message of a fiscal emergency. While the A$35.1 billion projected deficit for the year ending June 30, 2016, is tighter than economists had estimated, some analysts said Abbott had put off structural change in a bid to shore up his position.
"New structural budget repair measures are absent after last year's attempt at fiscal repair, which met community and political hurdles," Australia & New Zealand Banking Group Ltd. economists led by Warren Hogan said Wednesday in a report. The blueprint was a "softer, cuddlier budget," with structural reforms left "for another day."
No Surprises
Having infuriated middle and lower-income voters a year ago with unheralded cuts to education and health, this time around Abbott promised a "dull' budget.
''The government couldn't afford to have another budget with unpalatable surprises," said Andrew Hughes, a political analyst at the Australian National University in Canberra. "Abbott has narrowed the gap in the polls and he'll be looking to get a further push from this budget."
Since ditching unpopular policies in the wake of the February leadership challenge, which saw almost 40 percent of his Liberal Party lawmakers vote to remove him, Abbott's poll ratings have improved. The latest Newspoll published May 5 showed the coalition four points behind the opposition Labor Party on a two-party preferred basis, from a 14-point gap three months ago.
'Astute Document'
Abbott's signature paid parental leave policy, criticized for favoring richer families, has been dumped, along with a A$7 charge on patients seeing their doctor.
"The last budget created a crisis of the government's own making and in comparison, this is quite an astute document," said Nick Economou, a Melbourne-based professor at Monash University's School of Political and Social Inquiry. "Abbott is showing that while he can instigate problems, he can also learn from his own mistakes. The tax cuts to small business will appeal to the coalition's core constituency and help to keep its voter base intact."
While Deloitte Access Economics economist Chris Richardson said in a May 4 report that the nation faces deficits "as far as the eye can see," Treasurer Joe Hockey used his speech on Tuesday to say the "budget position is getting stronger each and every year."
Bottom Line
Still, policy changes overall in the budget improve the bottom line by just A$1.6 billion in the five years to 2018-19, according to the budget papers.
"This is about doing what is right for Australia," Hockey said in an interview Tuesday, when asked if the budget was designed to give the government a political bounce before the next election. "It's not about politics, it's about outcomes. Ultimately you will be judged on the outcomes you can deliver."
The Australian public judged Hockey's performance harshly in the wake of last year's budget. An Essential Research poll published in The Australian newspaper Dec. 20 found respondents rated him as the worst treasurer in 40 years, with just 27 percent saying they trusted him to manage Australia's economy.
"If Hockey can't sell this budget it will be the end of him as treasurer," said Hughes. "After failing to win over voters with his first budget, there's too much at stake to get it wrong with the government's eyes already turning to how to win the next election."
Before it's here, it's on the Bloomberg Terminal.
LEARN MORE