Uralkali Investor Uralchem Opts Out of $1.5 Billion Buyback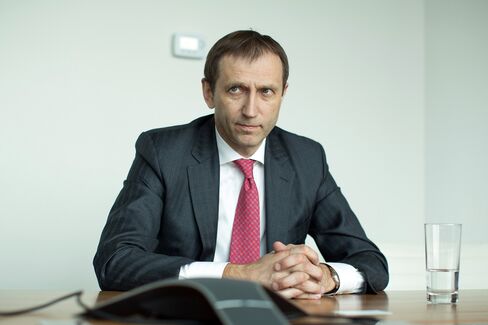 One of PAO Uralkali's largest investors said it won't return shares in the potash company's $1.5 billion buyback program, leaving a bigger portion of the cash pile to minority holders.
"We were studying the possibility a while ago but in the end we decided not to tender shares," OAO Uralchem Chief Executive Officer Dmitry Konyaev said Tuesday by e-mail. The company sees its investment as "strategic" and is interested in Uralkali's stable development, he said.
Uralkali's buyback surprised investors as the world's largest potash producer plans 300 billion rubles ($5.9 billion) in investments to help compensate for lost output at a flooded mine that accounts for 18 percent of its annual potash capacity.
"If any of the major shareholders do not participate in the program up to their full pro-rata share, the minority shareholders will have an opportunity to receive a higher allocation under the program," Uralkali CEO Dmitry Osipov said in an interview in Moscow last week. That will result in a "more attractive capital distribution" than dividends, he said.
Uralkali, the world's largest potash producer, plans to repurchase stock at $3.20 a share and $16 a global depositary receipt on a pro-rata basis. Stakes smaller than 500 shares, or 100 GDRs, will be bought back in full. The offer closes May 22.
Uralchem holds a 20 stake in Uralkali. Andrey Belyak, spokesman for Onexim Group, which bought about 27 percent in the potash producer in 2013 jointly with affiliates, declined to comment.
'Surprising Move'
Uralchem's move is "surprising," Oleg Petropavlovskiy, an analyst at BCS Financial Group in Moscow, said by phone. The company has a lot of debt and could have raised about $343 million by tendering shares, he said.
The decision means that minority investors, including OAO Acron, may split about $620 million in the buyback instead of $479 million if all shareholders other than Uralchem tender their shares in full, Petropavlovskiy said. Onexim may sell as much as $602 million of stock and Chengdong Investment Corp., which controls 12.5 percent of Uralkali, may get about $278 million, according to BCS's estimates.
Uralkali rose 1.7 percent to 156.80 rubles as of 11:23 a.m. in Moscow after rising as much as 2.5 percent. That compares with a 0.1% percent decline in the Micex Index of 50 stocks.
Uralkali said its buyback plans won't affect investments.
"We plan to finance the deal using our own cash," Osipov said. It "won't affect capital expenditure plans." The company won't need to borrow and doesn't foresee any impact on its ability to service debts, he said.
Maintaining Investments
That runs counter to the view of Konstantin Yuminov, an analyst at AO Raiffeisenbank, who said last month that Uralkali may not manage both the buyback and planned investments.
In March, Uralkali's board approved the 300 billion rubles of investments for the five years through 2020 to help maintain the company's market position, Osipov said.
"Implementing this strategy is likely to significantly influence the company's ability to return capital to its shareholders in the future," he said. "However, up to date we have accumulated a significant cash balance."
The company skipped a final dividend payment for 2014 even though it had $2.5 billion of cash at the end of the year. Uralkali posted an annual net loss of $627 million following foreign-exchange losses.
The buyback is an alternative way to distribute the cash, Osipov said.
While Uralkali has been criticized by investors over the price of the buyback, the terms were based on "the best corporate-governance practices" following the recommendations of financial and independent legal advisers, Osipov said.
Uralkali holds 12.6 percent of its shares in treasury and they won't be tendered in the buyback.
The new buyback may increase the size of the treasury stake to more than 28 percent. The company has said it plans to cancel them.
The buyback may pose a risk to Uralkali's listing on the London Stock Exchange if the free-float falls below 25 percent or if the board decides that the listing isn't in the interests of the company, according to the buyback memorandum published in April. Osipov reiterated the statement without elaborating.
Before it's here, it's on the Bloomberg Terminal.
LEARN MORE