Ukraine Bond Premium Another Sign Creditor Deal by June in Doubt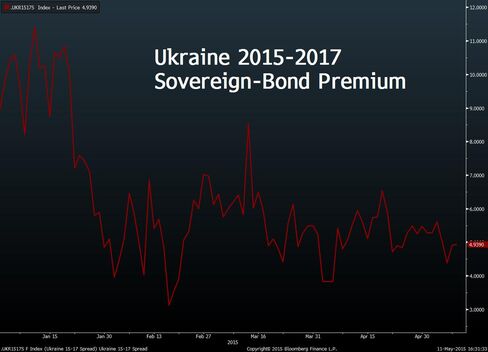 Bond investors aren't all convinced that Ukraine will have a restructuring agreement with creditors wrapped up by its June deadline.
In fact, some of them are betting they'll still be in negotiations come September when $500 million of the sovereign bonds come due. Those securities are trading at a 4.5 cent premium to 2017 notes, indicating some bondholders still see a chance they'll be offered sweetened terms to avoid default, according to Nomura Holdings Inc. and Promeritum Investment Management LLP.
While the International Monetary Fund has said it's "vital" that an accord with creditors is completed by mid-June, it has stopped short of saying that Ukraine won't get the next part of a $17.5 billion loan if talks are still ongoing. A group representing almost half of the debt under review said on Tuesday it was unwilling to accept losses on principal even as Ukraine insists the IMF's bailout terms can't be achieved without such a writedown.
"There is some premium because of the hope that Ukraine will pay these small bonds to avoid a default if no agreement is reached," Dmitri Petrov, an analyst at Nomura Holdings Inc. in London, said by e-mail on Monday. "There is also a view that restructuring terms will be different for each of the bonds, with 2015 possibly receiving slightly better treatment."
Petrov doesn't recommend holding Ukraine's bonds coming due this year.
The likelihood for preferential terms receded in recent months as Ukraine said that it would seek to treat equally holders of its sovereign debt in the $23 billion restructuring.
IMF Targets
The spread between shorter and longer-dated debt is down from as high as 11 cents in January before it was clear that bonds maturing this year would be included in the overhaul.
Ukraine's Sept. 23 bonds were trading at 52.4 cents on the dollar by 2:19 p.m. in Kiev, compared with 47.9 cents on the $2.6 billion of July 2017 notes. Its Oct. 13 debt was changing hands for 51.6 cents on the euro.
The IMF has asked Ukraine to save $15.3 billion on debt-financing costs over four years as part of a package of reforms that also include restructuring its national energy company and anti-corruption measures. The lender was called in as Ukraine's economy crumbled in the face of a yearlong conflict with pro-Russian separatists in the country's east that drained reserves and hammered its currency, the hryvnia.
Creditor Clash
Finance Minister Natalie Jaresko reiterated last week that a combination of maturity extensions and writedowns to principal and coupons was required to meet IMF conditions, setting it up for a clash with the Franklin Templeton-led creditor group. The five-member group was disappointed with progress on restructuring talks since outlining their terms four weeks ago, according to an e-mailed statement on Tuesday.
"The creditors are not in a hurry -- they would rather take a long time and get a better result," Pavel Mamai, who helps oversee $140 million in emerging-market assets as co-founder of Promeritum in London, said by e-mail on Monday. "It is implied in the price of the shorter-maturity bonds that there might be higher recovery since it might be more difficult to convince their holders to approve the restructuring."
Before it's here, it's on the Bloomberg Terminal.
LEARN MORE