Rock Star's Protest Voters in Focus as Polish Runoff Race Starts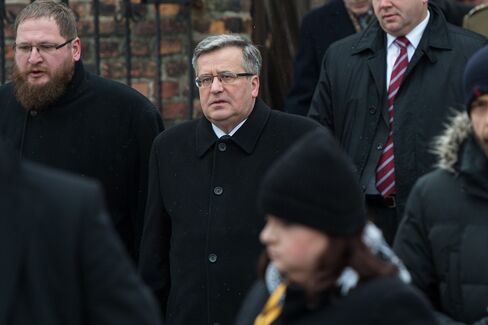 Poland's president and the challenger who dealt him a surprise defeat in a first-round presidential ballot clamored to woo supporters from a punk rocker whose third-place finish gives him sway in the May 24 runoff.
Incumbent Bronislaw Komorowski, who came second to opposition challenger Andrzej Duda, called for a referendum to introduce U.K.-style single-member constituencies, a key position that helped former punk singer Pawel Kukiz win a fifth of the vote. Duda, who garnered 34.5 percent according to exit polls, said he was open to discuss the idea and called the 51-year-old rocker "a great patriot" in his post-election speech on Sunday.
While Kukiz can't run in the May 24 decider, his backers may swing the runoff, which has turned into a referendum on the Civic Platform party's eight-year rule. While Komorowski is trying to outflank Duda and recapture the momentum he had as Poland's most trusted politician, Kukiz has ruled out supporting the incumbent. The surprise result also shook Poland's currency and bonds, which have benefited from years of political stability under Komorowski's Civic Platform allies.
"The enthusiasm surrounding Kukiz has grown out of anger against the ruling class," Anna Sosnowska-Materska, a political scientist at Warsaw University, said by phone on Monday. "Single-member constituencies are just a means to an end, which is to break the dominance of the two main parties in Polish politics."
Zloty, Bonds
Poland's president can veto legislation, acts as commander-in-chief of the armed forces and has say in foreign policy, while the separately elected parliament passes laws and elects a government. Official results will probably be announced Monday evening, according to the Election Commission.
The zloty weakened 0.4 percent to 4.0629 against the euro at 2 p.m. in Warsaw, Monday's second worst-performance among 24 emerging-market currencies tracked by Bloomberg. The yield on 10-year bonds climbed seven basis points to 2.77 percent.
Even as the European Union's largest eastern economy is set to grow more than 3 percent for a second year, unemployment above 11 percent is fueling sentiment that the poorer and less educated are missing out on the benefits. As many as 2 million mostly younger Poles have left the country in recent years for better-paying jobs in Ireland and the U.K.
Rocker, Actor
Kukiz, who relied on voluntary donations to fund his campaign, said on Sunday that besides not backing Komorowski, he won't tell his electorate how to vote in the second round.
The former leader of a band called Piersi starred as an unemployed English teacher-turned-hero in the 1995 Polish comedy action film Girl Guide. He was a clear winner with younger voters, getting 42.2 percent in the age bracket 18 to 29, according to the polling company Ipsos.
With a tune from his hit "The City Is Waking Up," the combat boot-wearing Kukiz, who said he quit drinking after years of partying, appealed to Poles' sense of national pride and solidarity. His exit from the race could mean some of his voters would rather abstain than support either runoff candidate.
"For me the election is over," Filip Dabrowski, 25, a logistics company employee, said on Monday. "I voted for Kukiz to show my discontent with how things are run, and he appealed to me as someone who speaks from his heart and is natural."
Komorowski Collapse
While Kukiz's support jumped from near zero at the start of the year, Komorowski struggled to fend off criticism that swathes of Polish society weren't benefiting from economic growth. His backing collapsed to 33 percent on Sunday, from more than 60 percent three month ago.
Komorowski's campaign blamed Duda's Law and Justice in an advertisement on Monday for blocking a plan to introduce single-member constituencies, which Kukiz argues will return influence to voters, and said the president had sought to curtail political party financing from the budget, another of Kukiz's demands.
The president is also ready to debate Duda after skipping an event with 10 contenders last week, Robert Tyszkiewicz, his campaign manager, said at a news conference in Warsaw on Monday. The debate is slated for May 21, TVN24 news said.
"Komorowski finally appears awake," Olgierd Annusewicz, a political analyst at Warsaw University, said by phone. "Politics is about emotions, and it was only today that Komorowski started to show some. More is needed so Poles see that he's flesh and blood."
Looking relaxed in a blue shirt and no tie, Duda handed out free coffee to commuters in front of Warsaw's central underground station on Monday. He said he would "definitely" talk to Kukiz as they used to have an "amiable" relationship.
Marcin Zuk, 40-year-old programmer from Warsaw, would support the Law and Justice candidate in the second round after initially voting for the rocker.
"Duda has been more natural, closer to people, and he just needs to stay this way for the next two weeks," Zuk said. "Komorowski was just rubber-stamping everything as the president and didn't take grassroots initiatives seriously."
Before it's here, it's on the Bloomberg Terminal.
LEARN MORE