Nangle: Everyone Is Looking in the Wrong Place for the Answer to Low Real Rates
How an oversupply of cheap labor may have kept capital costs down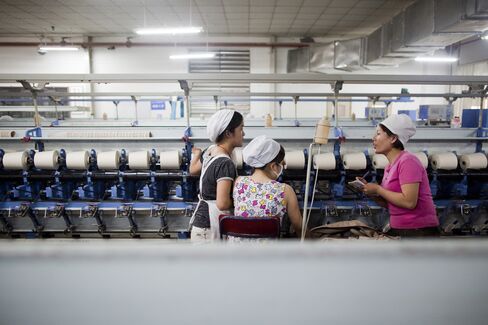 Ben Bernanke and Larry Summers recently had a public discussion on global interest rates, which currently are exceptionally low, and whether or not secular stagnation—the idea that slow growth in the developed economies may be here to stay—is the culprit.
They proved unable to agree on either the cause of, or a solution to, current low real rates.
Bernanke, the former central banker, sees the problem as a global savings glut and the solution in monetary policy and structural reforms. Larry Summers, the former U.S. Treasury Secretary, suggests that if secular stagnation is the problem, the solution lies in expansionary fiscal policies.
What if they're both wrong?
In a column published in voxeu.org over the weekend, Toby Nangle, head of multi-asset allocation at Columbia Threadneedle Investments, suggests that current low real rates have little to do with central banks or fiscal policy.
The problem is a much larger and longer trend than either Bernanke or Summers suggest and is due, according to Nangle, to the effects of globalization and the collapse of labor power in the West.
At its simplest, Nangle's thesis is that the supply of cheap, skilled labor from East Asia and former communist countries over the past few decades has meant that global labor costs have remained lower than they otherwise would have been.
Globalization has meant that industry has had access to this alternative source of labor, which has massively reduced labor power to negotiate higher wages in the West. Nangle includes this chart of global real income changes from 1988 to 2008 to illustrate his argument.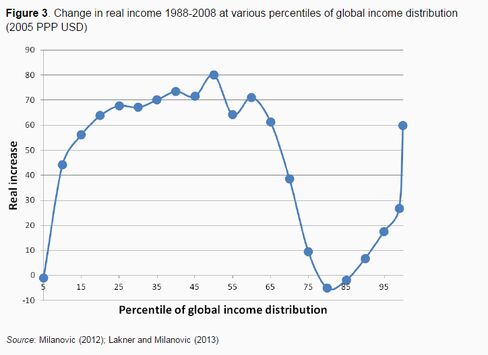 What this chart shows is that a large selection of people who are well-off in global terms—the Western working class—have not benefited at all from the past three decades of global growth.
Access to a new reserve army of cheap global labor through globalization has encouraged companies to invest in this workforce rather than in capital at home. A garment company, for example, could chose to build a highly automated, capital-intensive factory in the U.S. or build a low-tech, high-labor factory in the Far East. For years, companies have been choosing the latter option, which reduces the requirement for capital in the West, thereby reducing the price of that capital.
For labor-market pricing power to remain weak, the supply of excess labor has to remain strong. Labor market globalization is largely a China story, and there are signs that supply is now drying up. Nangle illustrates how quickly that is happening with this chart of data from the International Monetary Fund: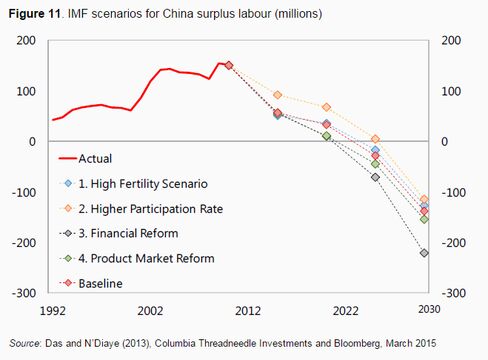 He notes that there is no easy replacement to this supply:
Supply of non-Chinese cheap labour into the global trading system is dependent upon governance – the delivery of higher education standards, the introduction of market-based economics, and the delivery of trade openness. It is unlikely to be a straight line.
Charles Goodhart, emeritus professor in the Financial Markets Group at the London School of Economics, said in a telephone interview with Bloomberg that he "entirely agreed with the line taken by Nangle," further adding that:
Potential sources such as sub-Saharan Africa and the Indian subcontinent need to have more than a large young population, which is a necessary but not sufficient, precondition to replace east Asian excess labor supply. Effective political administration, sufficient infrastructure, and high levels of education are also needed.
This means that bringing fresh supply online fast enough to make up for the reduction in Chinese supply is nearly impossible in the near term.
Nangle concludes that this points to increased labor power in the near future and an interest rate environment that is closer to the postwar period than anything we have seen in the past 35 years.
While strong dividend growth might support equity prices, the discount rate tailwinds of the last 35 years will turn to headwinds in an environment of rising (Wicksellian) interest rates associated with an increase in labour power. The last time we witnessed a sustained increase in labour power in the west was between 1945 [and] 1980, when cash dominated government bonds on the ex post efficient frontier. Given that the starting point for yields is low, it is conceivable that government bonds will lose their place in institutional portfolios as they stop providing portfolio insurance and returns to incremental interest rate duration turn negative.
It is worth looking at another chart in this context, namely, days lost to industrial action in the U.S. High labor power in the 1960s and 1970s also saw a much, much larger number of days lost to industrial action.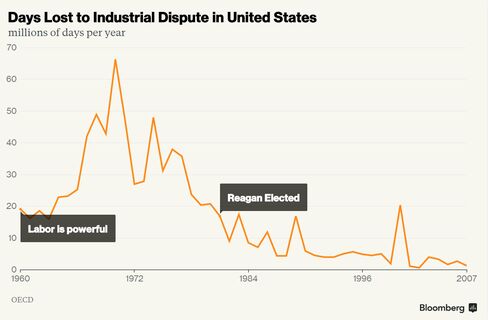 If, as Nangle suggests, labor market power is set to return, then interest rates are also set to rise. But buying that cheap T-shirt could also prove to be more difficult.
Before it's here, it's on the Bloomberg Terminal.
LEARN MORE