Mylan Chairman Said to Consider Perrigo Sweeteners to Make Deal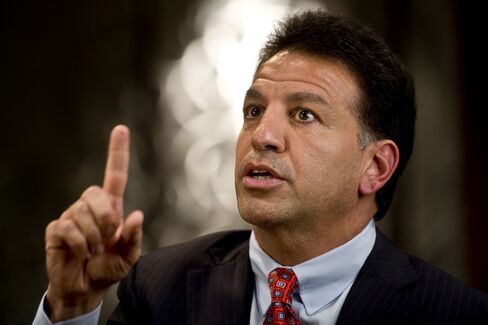 Mylan NV's chairman told investors he may sweeten the company's cash-and-stock offer for Perrigo Co. by adding terms to reduce the risk to its shareholders, said people who recently met with him.
In private meetings with investors, Mylan Executive Chairman Robert Coury was adamant that Mylan won't be bought by Teva Pharmaceutical Industries Ltd., which has made an unsolicited bid for Mylan. Teva's offer for Mylan is contingent on Mylan dropping its bid for Perrigo.
Instead, Coury laid out other scenarios that could play out, according to the people, who asked not to be named because the meetings were private. In one possibility, Coury suggested a Mylan-Perrigo combination would be an attractive future target for Pfizer Inc., and that Pfizer could use a deal to move its legal address abroad and lower its tax rate.
Perrigo has rejected Mylan's most recent offer of $75 in cash and 2.3 Mylan shares for each Perrigo share. Coury said Mylan could add payments to Perrigo in the event a deal fell apart, or include other sweeteners to reduce the risk to Perrigo shareholders, said the people.
Mylan spokeswoman Nina Devlin declined to comment on the meetings. Representatives for Teva and Perrigo didn't immediately respond to requests for comment, and Pfizer declined to comment.
Mylan, a generic drugmaker, has made two unsolicited takeover overtures for Perrigo, which generates about half of its sales from consumer health-care products. Perrigo has rejected those offers.
Teva, meanwhile, has made a $40.1 billion offer to buy Mylan. Mylan has rejected that as well, calling it a bad cultural fit that couldn't get cleared by U.S. antitrust regulators.
Why Not Novartis
At the meetings with investors, Coury also brought up the idea that Mylan could eventually make a deal with Novartis AG's generic business Sandoz, the people said. One possibility raised was Mylan buying Sandoz in exchange for a stock stake in Mylan, said one of the people.
Novartis declined to comment.
Mylan's rejections of Teva have been firm. In a public letter on April 27, Mylan said Teva's opening offer of $82 a share "grossly undervalues" the company and that the Israeli drugmaker shouldn't even bother coming back until it's prepared to pay "significantly in excess of $100 per share."
Teva responded with a letter of its own, asking Coury to quit the "mudslinging."
Before it's here, it's on the Bloomberg Terminal.
LEARN MORE