Merkel Shields Aides as NSA Probe Targets German-U.S. Ties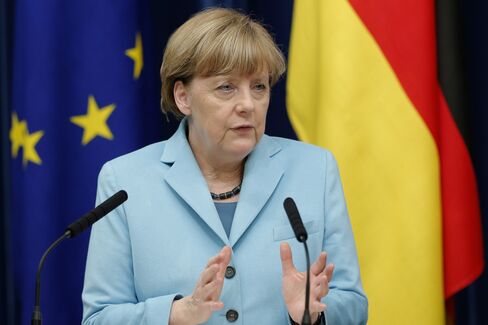 German Chancellor Angela Merkel said her aides told the truth in 2013 when they said a no-spying accord with the U.S. was possible, pushing back against a newspaper report suggesting her government exaggerated the prospects.
Merkel said Monday she's ready to testify to parliament as revelations about German-U.S. intelligence cooperation implicate members of her inner circle at the chancellery. Merkel's approval rating declined in an ARD television poll last week.
Ronald Pofalla, then Merkel's chief of staff, assured the public in August 2013 that Germany would sign a no-spy agreement with the U.S. even as White House officials were giving no such guarantees, Sueddeutsche Zeitung reported, citing leaked e-mails between U.S. and German officials.
"Everybody acted according to the best of their knowledge," Merkel told reporters in Berlin. "That goes for the current chief of staff and his predecessors, also for Ronald Pofalla."
Merkel's government is facing questions about cooperation between Germany's foreign intelligence service and the U.S. National Security Agency that allegedly included targeting European allies. After two years of reports on NSA mass surveillance, alleged surveillance of Merkel's phone and the removal of the top U.S. intelligence officer in Berlin, politicians inside and outside of Merkel's government are demanding clarity.
German Debate
The White House consistently rebuffed German requests for an agreement for the two countries to refrain from spying on each other and to assurances that U.S. surveillance wouldn't breach German law, Sueddeutsche reported on Friday, citing communications between the chancellery and the White House.
Public debate in Germany at the time focused on efforts to set up such a "no spy" pact. President Barack Obama publicly rejected the idea in February 2014, saying "there's no country where we have a no-spy agreement." German Foreign Minister Frank-Walter Steinmeier acknowledged that month that there would be no such accord.
Responding to an inquiry, Edward Price, a spokesman for the U.S. National Security Council, on Monday said only: "High-level conversations with the Germans on these topics began last year and are continuing."
Merkel stood by her demand that espionage activity in Germany conform with German privacy laws.
"It's self-evident to me that intelligence services must obey German law if they operate here," she said Monday. "That can be difficult and take longer than one would wish, but it remains for me the political goal."
For more, read this QuickTake: The NSA's Gigantic Haystack
Before it's here, it's on the Bloomberg Terminal.
LEARN MORE