Ghana Said to Delay Cocoa Exports as Harvest Set for 5-Year Low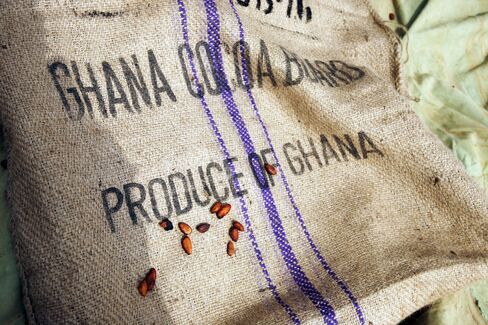 Shipments of cocoa from Ghana, the world's second-largest producer, have been delayed during the country's worst harvest in five years, according to five European cocoa traders and chocolate makers.
The majority of the deliveries were for the first quarter, according to the traders, who asked not to be identified because the transactions aren't public. The delays affect shipments of 1,000 to more than 11,000 metric tons, they said.
Dry weather in parts of West Africa, along with less fertilizer and pesticide, have hurt Ghana's crop. Large processors may switch to cocoa from other nations or Ghana could change contracts to use some beans from a later harvest that runs from June through August, according to Derek Chambers, head of cocoa trading at Sucres et Denrees SA in Paris.
"Ghana needs to acknowledge the problem and approach customers to explain what they can deliver and ultimately do a deal on the balance," said Chambers, whose firm trades small amounts of beans from Ghana and is experiencing shipping delays. "The problem is solvable, but uncertainty has to be taken out of the market."
Noah Amenyah, a spokesman for the Ghana Cocoa Board, an industry regulator, said he wasn't able to comment.
Crop Estimate
Cocoa gained 5.1 percent on ICE Futures Europe last month as the outlook for the Ghanaian crop deteriorated. Ghana may struggle to produce more than 700,000 tons, about 20 percent less than the initial target, according to Edward George, head of research at Ecobank Transnational Inc.
The Ghana Cocoa Board, known as Cocobod, has probably sold more beans for future delivery than the harvest will provide, according to Jonathan Parkman, co-head of agriculture at London-based broker Marex Spectron Group. Traders estimate 100,000 to 220,000 tons of cocoa have probably been oversold, he said.
Ghana borrowed $1.7 billion last year to finance purchases of the crop. While the country will probably be able to repay its loan this season, the slump in production may cause banks to lend less money next time, according to George of Ecobank, which provided part of the financing.
The Ghana Cocoa Board has borrowed about $1 billion each season since 2009 to finance purchases of the crop, data compiled by Bloomberg show.
"There's a very clear risk," George said. "Even if Cocobod is able to repay, you don't want to lend even more money if you think there will be a shortfall in production."
Before it's here, it's on the Bloomberg Terminal.
LEARN MORE