Follow-the-Data Fed May Play Follow-the-Markets to Avoid Shock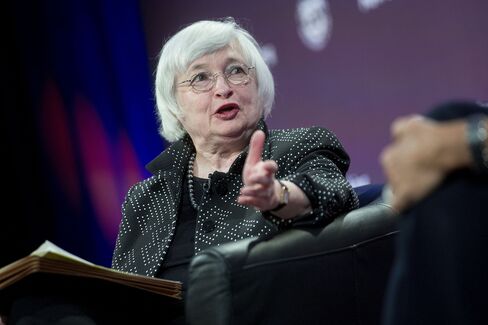 The Federal Reserve may be about to discover that letting the data drive its decisions on raising interest rates is easier said than done.
Fed Chair Janet Yellen's new strategy, a departure from six years of explicit guidance, calls for adjusting policy according to how the economy evolves. That will make it harder for investors to predict the Fed's decisions, and risks hurting growth if a surprise triggers a surge in bond yields that stifles business investment and starves the housing recovery.
Officials also want to respect the lesson of the last tightening cycle, when they pursued a deliberately measured pace of rate increases. The steady stair-step tightening is blamed by some for stoking the financial crisis by smothering volatility and encouraging massive bets on housing.
The challenge for the Fed is striking the right balance: Preserving flexibility to change the pace of rate increases as needed, while also following a path that's predictable enough to avoid shocks to a still-fragile economy that almost came to a standstill in the first quarter.
"They're going to be data dependent to some degree, but they're also going to be reacting to how the markets react to the data," said Omair Sharif, a rates sales strategist at Societe Generale in New York. "They're just too nervous about creating unnecessary volatility."
Reasonably Confident
The Fed has said it will raise its benchmark federal funds rate -- which has been near zero since December 2008 -- when it sees further labor-market improvement and is "reasonably confident" inflation will rise back to its 2 percent goal over time. Most economists in a Bloomberg survey late last month predicted the central bank will start tightening in September.
Many investors see the first move coming later than that. Traders in money-market securities marked down the odds of a December move, to 52 percent from 62 percent earlier Friday, according to CME Group Inc. calculations.
A May 8 government report showing job growth rebounded in April probably won't alter the timing of a rate increase, according to Michael Feroli, chief U.S. economist at JPMorgan Chase & Co. in New York and a former Fed board economist.
Measures of volatility are currently below the long-term average, suggesting an absence of either abnormal fear or complacency in the market.
The Bank of America Merrill Lynch MOVE index, which tracks expectations for swings in U.S. debt yields, closed at 80.91 on Friday versus a 25-year average of 98.01. Staying near that sweet spot after liftoff will be a challenge.
Greenspan's Pace
When the Fed last began tightening in 2004 under Chairman Alan Greenspan, the Federal Open Market Committee said in its June policy statement that policy accommodation could be removed "at a pace that is likely to be measured," though it would respond to economic prospects "as needed to fulfill its obligation to maintain price stability."
Seventeen consecutive 25 basis-point increases followed. While unemployment continued to decline, consumer prices fluctuated. The Fed's preferred gauge of inflation swung between 2.3 percent and 3.7 percent, measured on a year-over-year basis.
Volatility dropped by more than half. From June 2004, the MOVE Index declined from 121.50 to a low of 55.24 on Feb. 24, 2006, and averaged 80.11 in the two years through June 2006.
Plenty of forces besides the Fed have an influence on volatility. Still, the steady pace of tightening, "looking back on it, took too much uncertainty out of the market," which could have encouraged excessive risk-taking, said former Fed Vice Chairman Donald Kohn, who was on the FOMC throughout that period.
Market Positioning
"People could be very confident that they knew what the path of short-term rates would be, so they could position themselves against that pattern," he said.
Other Fed officials recall that there were good reasons for sticking to their measured pace.
San Francisco Fed President John Williams was a research staff member then, and he said that at the time, it seemed like deviating even slightly would be disruptive.
"We had gotten so locked in," he said in a question-and answer-session with reporters on May 1. Any other move, or no move, would have been seen "as a sign that the Fed is shifting course."
Yellen herself said in a March speech that this time around, "the actual path of policy will evolve as economic conditions evolve, and policy tightening could speed up, slow down, pause, or even reverse course depending on actual and expected developments in real activity and inflation."
Taper Tantrum
While Fed policy makers don't want to fall into a lockstep again, they'd still prefer not to rattle markets and will avoid "knee-jerk" reactions to data fluctuations, said Stephen Stanley, chief economist at Amherst Pierpont Securities LLC in Stamford, Connecticut.
Surprising investors can create real economic drag, and that's fresh in Fed memory. Markets reacted sharply when then-Fed Chairman Ben S. Bernanke unexpectedly announced in May 2013 that a slowdown in unprecedented asset purchases would soon begin.
During the episode known as the taper tantrum, mortgage rates surged, cutting off a refinancing wave and slowing real estate buying.
"We saw existing-home sales and new-home sales fall off when rates popped up," said David Crowe, chief economist at the National Association of Home Builders in Washington. "We're operating in a very sensitive housing market to begin with," he said of current conditions.
QE Programs
The Fed undertook three rounds of asset purchases to drive down the cost of home loans and other long-term borrowing, more than quadrupling the size of its balance sheet to $4.47 trillion.
Tapering the purchases, once it commenced, showed how data dependence can evolve into a seemingly preset course. Bernanke stressed that the pace of reductions would respond to economic data, and the Fed had no predetermined schedule. Yet the Fed proceeded to cut its $85 billion-per-month in bond purchases by $10 billion at each meeting until it bought its final $15 billion in October 2014.
Tapering "was exactly in lockstep every time, and that showed an example: even if we wanted to, it would have been hard to shift the pace," Williams said.
At the same time, tapering wasn't actually tightening. Purchasing bonds, even at a reduced rate, was still adding stimulus to the economy. With rate increases, which will withdraw stimulus, the Fed may be more cautious and pause after the initial lift-off to assess the fallout.
"The recovery has been a lot weaker than it has been in the past, so they have to tread a lot more softly," said Megan Greene, chief economist at Manulife Asset Management in Boston.
Before it's here, it's on the Bloomberg Terminal.
LEARN MORE