David Miliband Rules Out Bid to Succeed Brother as Labour Leader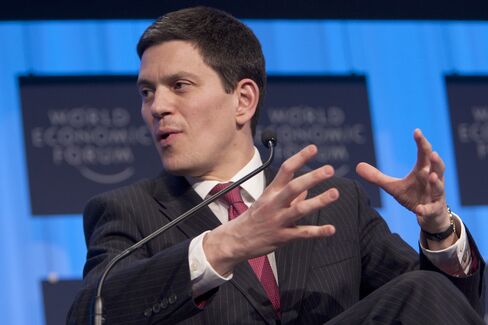 David Miliband criticized his younger brother Ed Miliband's leadership of the Labour party and ruled out trying to succeed him after Prime Minister David Cameron's Conservatives won an overall majority last week that few pollsters had expected.
Miliband, 49, said that the electorate "didn't want what was being offered" by Labour and that he would speak out on British politics more freely "because there isn't going to be the soap opera associated with my name and Ed's name," he said in a BBC interview broadcast from New York, from where he has led the International Rescue Committee since 2013, when he resigned his seat in Parliament.
The brothers, both cabinet ministers in former Prime Minister Gordon Brown's 2007-10 government, fought a leadership battle in September 2010, which Ed narrowly won, and from which their relationship is still "healing", he said at the start of the general election campaign in March.
Brown and Ed Miliband "allowed themselves to be portrayed as moving backwards from the principles of aspiration and inclusion that are at the absolute heart of any successful progressive political project," the elder Miliband, foreign minister during Brown's premiership, said.
"What I passionately hope for is that friends and colleagues who are in the U.K. now will take up the mantle of a dynamic progressive politics" although he won't endorse a specific candidate, Miliband said.
Only one Labour lawmaker, junior health spokeswoman Liz Kendall, has so far declared his or her candidacy. Favorities for the role include Business spokesman Chuka Umunna, Health spokesman Andy Burnham and shadow home secretary Yvette Cooper.
"Never again can we allow ourselves to be painted as having a problem with people eager to work hard, get on and succeed," Labour lawmaker Dan Jarvis wrote in a Times newspaper article Monday. Jarvis, a former soldier, ruled himself out of the Labour leadership contest in the same article.
Before it's here, it's on the Bloomberg Terminal.
LEARN MORE