Carlyle's Succession Choices Narrow as Cavanagh, Friedman Depart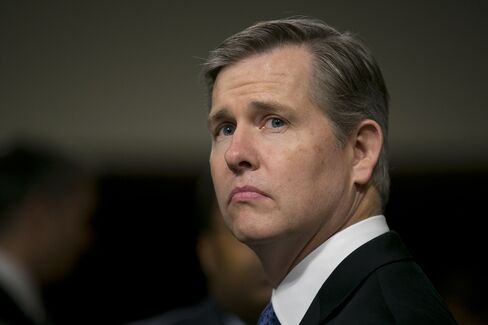 Carlyle Group LP started a pay program last year to retain top executives central to shaping its future. Two of the four enrolled have left the private equity firm.
Mike Cavanagh, the former JPMorgan Chase & Co. star whom Carlyle's founders spent about six months recruiting to be co-president, departed Carlyle on Friday after 11 months on the job. The 49-year-old was named Monday as chief financial officer at cable giant Comcast Corp.
The exit comes as the world's largest alternative-asset managers, including Carlyle, have started preparing for an eventual hand-off in leadership. Carlyle, formed 28 years ago by Bill Conway, Dan D'Aniello and David Rubenstein, also lost Chief Financial Officer Adena Friedman last May when she rejoined Nasdaq OMX Group Inc.
"Mike is going from one great company to another," Chris Ullman, a Carlyle spokesman, said Monday. "We have a deep bench of talent."
Glenn Youngkin, a 20-year veteran of Carlyle, and another unnamed executive remain members of the KEIP plan, which stands for key executive incentive program. Other senior non-founding executives at the firm include Curt Buser, who replaced Friedman as CFO; Kew Lee and Pete Clare, the deputy chief investment officers of private equity; Mitch Petrick, head of the global market strategies group; and Jacques Chappuis, the head of the firm's funds-of-funds unit.
Cavanagh Pay
Rubenstein said last year that Cavanagh was hired "to strengthen our next-generation leadership and also strengthen our current management structure."
Cavanagh, who shared the president and chief operating officer roles with Youngkin, informed Carlyle's founders of his decision to leave on Friday, a person with knowledge of the matter said. Carlyle doesn't plan to replace him, leaving Youngkin as the sole president and COO, said the person, who asked not to be named because the details are private.
Efforts to reach Cavanagh for comment on Monday were unsuccessful.
Cavanagh will surrender about two-thirds of the $32 million in Carlyle shares he received as part of his compensation package, which offset shares of JPMorgan he forfeited when he left the New York-based bank, the person said.
Cavanagh received $137,500 in salary and a $5 million cash bonus in 2014, according to Carlyle's annual report. He also got a $2 million signing bonus and would have received $2 million in restricted stock in each of his first three years at the firm.
As part of the KEIP plan, he was also slated to take home 0.5 percent of Carlyle's future cut of profits generated by investments made from 2014 to 2016.
Comcast, the biggest U.S. cable company, said it hired Cavanagh after a nationwide search to replace Michael Angelakis, who's stepping down to start an investment venture backed by the company.
Before it's here, it's on the Bloomberg Terminal.
LEARN MORE