Billionaire Paulson Said to Score Hedge Fund Wins in April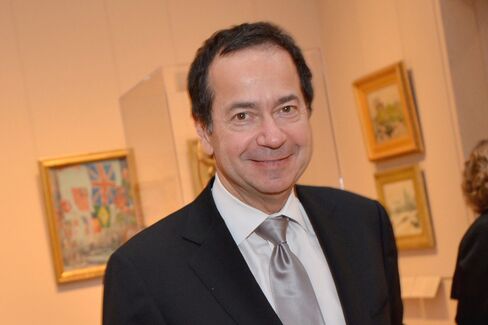 Billionaire John Paulson's hedge funds gained in April after successful wagers on energy, mergers and Greek banks.
Paulson & Co.'s merger strategy, which comprises more than half of the firm's $19.5 billion in assets, profited on potential takeovers in health care, media and telecommunications, said two people with knowledge of the returns, who asked not to be named because the information is private. Paulson Partners gained 1.5 percent last month and 6.1 percent this year, said the people. A version that uses borrowed money rose 2.9 percent in April and 13 percent for 2015.
The hedge fund manager, who made $15 billion in 2007 betting against U.S. mortgages, is rebounding from the firm's second-worst year on record. Unrestricted shares of Paulson's Advantage fund, which makes bets on corporate events, fell 19 percent in 2014. That helped reduce assets from a peak of $38 billion in 2011.
Gains this year have been across almost all strategies with most of the Paulson funds beating the industry average of 3.3 percent, according to the Bloomberg Global Aggregate Hedge Fund Index. The Standard & Poor's 500 Index rose 1.3 percent for the first four months of 2015.
SkyBridge Preference
SkyBridge Capital, which allocates about $13.1 billion to hedge funds, said this month that it's favoring event-driven managers such as Paulson because they can make money in a bull market.
Paulson's credit fund rose 2.4 percent in April and is up 5.4 percent this year, said the people. The fund initiated positions in distressed oil and gas securities during the first quarter, one of the people said.
The event-driven Advantage fund climbed 2.6 percent last month and 4.5 percent in the first four months of the year. The version of the strategy that uses leverage to amplify returns is up 3.5 percent for the month and 7 percent for the year.
Paulson & Co.'s special situations fund pared its yearly loss to 3.7 percent after gaining 1.1 percent in April, according to the people.
Armel Leslie, a spokesman for the New York-based firm with Peppercomm, declined to comment on the returns.
Before it's here, it's on the Bloomberg Terminal.
LEARN MORE