U.K. Labour's Jarvis Rules Himself Out of Leadership Battle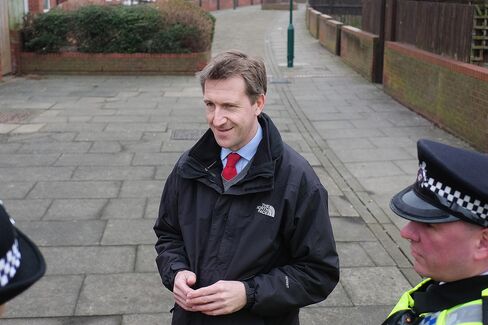 U.K. Labour Party justice spokesman Dan Jarvis ruled himself out of standing for the party leadership, saying he wants to put his family first.
"I'm ready to serve in that rebuilding process as part of the Labour team," Jarvis wrote in the Times late Sunday. "But I can't do that as leader at this moment and I won't be putting my name forward in the coming leadership contest."
Labour's National Executive Council will meet in London on Monday to set the timetable for replacing Ed Miliband, who resigned as leader on Friday after the party's worst general election performance since 1987. Jarvis had been rated by bookmakers Ladbrokes Plc and William Hill Plc as one of the favorites to succeed Miliband.
Labour's defeat "was a judgment on our failure to move out of the comfort zone of critiquing the Tories and instead set out a positive alternative," Jarvis wrote. "We failed to tap into people's aspirations with a sufficiently optimistic vision for how Labour would improve their lives."
A former army officer who served in Iraq and Afghanistan, Jarvis was elected to Parliament in a special election in March 2011. His first wife died of cancer in 2010, and he has since remarried.
"It's not the right time for my family," Jarvis wrote. "My eldest kids had a very tough time when they lost their mum and I don't want them to lose their dad. I need some space for them, my wife and our youngest child right now, and I wouldn't have it as leader."
Before it's here, it's on the Bloomberg Terminal.
LEARN MORE