South African Opposition DA Names Maimane First Black Leader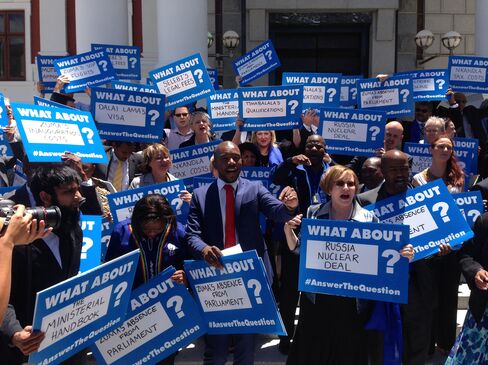 South Africa's second-largest political party elected Mmusi Maimane as its first black leader, seeking to broaden its appeal ahead of next year's municipal elections.
Maimane, 34, won the most votes cast by delegates at the Democratic Alliance's federal congress in the southern city of Port Elizabeth on Sunday, beating three other candidates, said Helen Zille, the party's outgoing leader. Athol Trollip was elected federal chairman. The vote tallies weren't announced.
"We have shown South Africa what it means to be a truly democratic party, united in its diversity," Maimane said in his victory speech. "Let us unite behind our shared values and take the DA forward. We will work tirelessly to create a fairer society."
The DA is looking to Maimane to attract more votes from black citizens, who make up 80 percent of the population yet accounted for 15 percent of the party's support in last year's national elections. The African National Congress, South Africa's largest political party, has won more than 60 percent of the vote in every poll since it took power under Nelson Mandela in 1994.
Zille has led the DA for the past eight years. Maimane is a former lecturer who holds a masters' degree in public administration, joined the DA in 2009 and served as the party's caucus leader in the city of Johannesburg before being appointed its parliamentary leader last year. He has said President Jacob Zuma's administration failed to do enough to reduce poverty, unemployment and corruption.
'Transcend Race'
"It is a fact that many young black South Africans continue to be denied opportunity just as their parents were during apartheid," Maimane said. "We can transcend race but this can only happen if every South African acknowledges the injustices of apartheid. We must not remain victims of our past but we must believe in a better tomorrow for all South Africans."
Twenty-one years after the end of white minority rule, 24 percent of the workforce remains jobless, while 22 percent of the population of 54 million don't get enough to eat. Census data show white households earn six times more than their black counterparts.
Maimane will have to "reach out to more people, to offer rescue to poor communities in distress, taxpayers and property owners under siege, businesses in failure and so many people who have given up hope," Tony Leon, who led the DA and its predecessor, the Democratic Party, for 13 years, told party delegates.
Election Goals
The DA, which was founded in 2001, controls Cape Town, the country's second-largest city, the surrounding Western Cape Province and 22 percent of the seats in Parliament. The party aims to wrest control of Johannesburg, Pretoria, Port Elizabeth and other towns from the ANC in next year's vote.
"Mmusi gives us hope," said Olwethu Ntame, a councilor from the southern city of East London, who wore a blue t-shirt bearing Maimane's image and campaign slogan "Believe in tomorrow." "He can stand in front of any crowd and connect. We want leaders who have ideas. Race is not important. The DA has transformed a long time ago."
Before it's here, it's on the Bloomberg Terminal.
LEARN MORE