Poles Vote in Presidential Election Poised for Second Round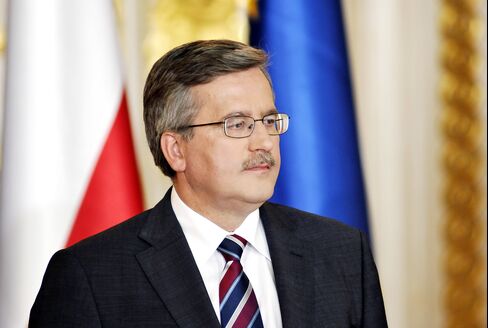 Polish President Bronislaw Komorowski's plummeting popularity may not give him enough votes in Sunday's presidential election to win outright, forcing him into a run-off amid increased security threats from Russia.
Polling stations close at 9 p.m. and a simple majority is needed to avoid a second-round on May 24. Komorowski, 62, may end up with no more than 40 percent, the final opinion surveys showed. That's down from as high as 63 in February, as voters warmed to his challenger, Andrzej Duda.
The two main candidates chose different tacks in the campaign. The ruling Civic Platform-backed Komorowski, who is seeking a second five-year term, made security the centerpiece of his reelection bid, while Duda, 20 years his junior, put the spotlight on the economy.
"Support for Komorowski has crumbled so much that the run-off may become too close to call," Kazimierz Kik, a political scientist at the Jan Kochanowski University in Kielce, Poland, said by phone.
Duda is supported by about 30 percent of voters, according to six polls published before a blackout began Friday.
'Arrest the Momentum'
Komorowski struggled to match his rival's energy on issues ranging from euro adoption to relations with Russia against the backdrop of the conflict in neighboring Ukraine.
Before he woke "up to the idea that Duda was a credible threat to his aspiration of winning in the first round, it was too late to arrest the momentum," Benjamin Stanley, a research fellow at the University of Sussex in Brighton, England, said by phone on Thursday.
Still, the prospect of abandoning the incumbent with instability on Poland's doorstep was too much for some.
'The other lot are a dangerous experiment,'' said Jagoda Makuch, a 38-year-old office worker from Warsaw. "It's better to calmly continue with what we have."
Turnout was 34.4 percent by 5 p.m., Election Commission said on Sunday. Official results will be released on Tuesday.
Poland's president can veto legislation, acts as commander-in-chief of the armed forces and has say in foreign policy, while the separately elected parliament passes laws and elects a government. Whoever wins will also get to appoint two members of the central bank's rate-setting panel in the first quarter and its governor in June 2016.
The vote sets the stage for parliamentary elections this fall in the European Union's largest eastern economy, where Law and Justice will seek to end Civic Platform's eight-year rule.
Punk Rocker
Duda railed against the government's decision to raise the retirement age to 67, and pledged to offset higher spending with with more revenue from large companies such as banks and foreign supermarket chains.
Voters also flocked to Pawel Kukiz, a former punk rocker running as an independent, who's relied on voluntary donations to fund his campaign. He's might win as much as 15 percent of the vote, polls showed.
Wearing a rocker's clothes, Kukiz, 51, tapped into sentiments of national pride and called emigration to Ireland and the U.K. in search of jobs "an extermination spread over time."
Despite Komorowski's slide, polls indicate that he would likely win in a run-off, beating Duda by 54 percent to 41 percent, according to May 6-7 poll of 3,016 adults by Millward Brown for TVN television.
"The second round is probably where his appeal to known quantity, safety and security will be more important," Stanley said. "He'll get more support among those who've been wavering up to that point, but it's not going to be a convincing majority."
Before it's here, it's on the Bloomberg Terminal.
LEARN MORE