Former Manchester City Defender Starting Sports Finance Exchange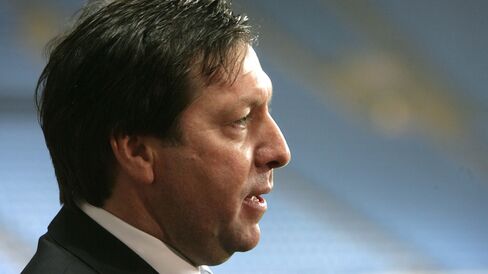 Ray Ranson, a former Manchester City defender, is starting an Internet-based sports finance exchange to lure asset managers into lending to soccer clubs ranked below investment grade.
Ranson aims to turn London Sport Exchange Ltd. into a $750 million platform to match teams with hedge funds looking for fixed-income returns. Such lending is currently a niche market for banks such as Close Brothers Group Plc because of the perceived risk, according to Richard Price, owner of Uckfield, England-based New Century Finance Ltd., which arranged loans for teams including West Ham United since 2000.
Ranson, who is also seeking to broker finance in other sports such as Formula One and golf, said he's creating a "new asset class" for an industry that's isolated from fluctuations in other markets. The exchange, scheduled to start today on sportex.com, might typically offer annual yields of between 8 percent and 12 percent, he said.
"If the stock market crashes, gold collapses and the price of oil declines, it doesn't affect the value of Cristiano Ronaldo," Ranson, 54, said in an interview, referring to Real Madrid's world player of the year.
Soccer clubs are often short on assets and cash. All 44 European teams surveyed including Arsenal, Ajax and Manchester United got a credit score below investment grade in a report by S&P Capital IQ last year.
Most "don't have a huge amount of cash on their balance sheets" and have to compete in soccer's $4 billion transfer market to sign players, Pavle Sabic, the report's author, said. Lending to them remains attractive because the support of wealthy backers and loyal fans ensures they rarely fold, Sabic said.
Ranson plans to bundle future broadcast or sponsorship income from Sky Plc and Adidas AG owed to as many as a dozen clubs to make returns bigger for investors. Fund managers will bid in a so-called Dutch auction, whereby the lowest bid wins, and can trade securities on the exchange.
The way the project is marketed to asset managers could change the minds of those who haven't been comfortable investing in the sport, according to James Powell, head of Cantor Fitzgerald LP's soccer finance unit in London. The biggest challenge for Ranson may be in getting clubs to "get their heads" around the idea, Powell said.
Funding Deals
Many teams have done one-time funding deals with brokers such as Price's New Century Finance, Powell said. Price said he arranged about $750 million of loans to teams in the last 15 years. The interest rate charge dropped to about 7 percent from 9 percent in the last 12 months as more funders entered the market, Price said.
Ranson's equity partner in the exchange is Brian Phillpotts, a former Premier League commercial director who was a fellow youth-team player at Manchester City in the 1970s. Ranson started an insurance brokerage during his soccer career that included two stints at City and time at Newcastle and Reading.
After he stopped playing, Ranson arranged 200 million pounds ($304 million) of finance for English soccer teams including Leeds United. His other roles have included chairman of second-tier Coventry City and chief executive officer of hedge fund R2 Asset Management Ltd., which invested in the transfer rights of up-and-coming players. That practice was banned in soccer on May 1 amid concern about market interference.
Ranson said his exchange could also, for example, enable golfer Rory McIlroy to receive an advance on a long-term endorsement deal with Nike Inc., or help a Formula One team like Manor Marussia get funding to carry on racing. The team was rescued in February by Ovo Energy Ltd. chief executive Stephen Fitzpatrick days before collapsing.
"This is uber betting on sports," Ranson said.
Before it's here, it's on the Bloomberg Terminal.
LEARN MORE