Charter's Task Is to Coax Time Warner Cable to Sell: Real M&A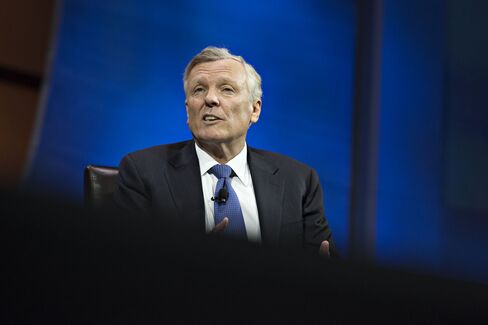 Charter Communications Inc.'s desire to again go after Time Warner Cable Inc. makes sense for Charter. For Time Warner Cable, the case for selling isn't so clear.
Charter's stock price has been rising more quickly than its earnings in recent months. As a result, the cable operator's valuation has increased relative to Time Warner Cable's. That's made Charter's stock a more alluring form of payment than when the two held merger talks back in 2013. So the timing is right.
Time Warner Cable may not see it that way. The New York-based cable company is much larger than Charter, with an enterprise value of more than $65 billion, compared to Charter's $41 billion. Time Warner Cable also posted its first gain in net video subscriptions since 2009 last quarter. That may signal it is moving in the right direction operationally. Furthermore, it also has better margins than Charter.
"Time Warner Cable controls its own destiny," said Paul Sweeney, an analyst at Bloomberg Intelligence. "Its operations are improving, its balance sheet is strong and its stock price is up. Time Warner Cable needs to decide whether it is a better buyer or seller."
Merger Talks
Charter and Time Warner Cable are currently negotiating the structure of a merger, according to people familiar with the matter. A deal would leapfrog Charter from the fourth-largest U.S. cable provider to the second-largest, behind Comcast Corp. Comcast withdrew its bid to acquire Time Warner Cable in April amid the threat of regulatory roadblocks.
Charter Chief Executive Officer Tom Rutledge and Time Warner Cable CEO Rob Marcus met this week in Chicago to discuss deal logistics, according to a person familiar with the matter. Charter has 5.2 million broadband subscribers. Time Warner Cable has 12.6 million.
Representatives for Stamford, Connecticut-based Charter and Time Warner Cable declined to comment.
Charter is valued at 12 times its estimated earnings before interest, taxes, depreciation and amortization. That's about 50 percent more than Time Warner Cable's. In 2013, Charter's valuation premium was only 20 percent.
While a deal would improve Charter's profit margins, it would diminish Time Warner Cable's, according to data compiled by Bloomberg. An acquisition may also double Time Warner Cable's leverage ratio, or net debt to trailing 12-month Ebitda. This would be a concern for bondholders, according to Rich Greenfield, an analyst at BTIG in New York.
Financing Options
One way Charter can appease Time Warner Cable bondholders is to get financing from private equity instead of banks. Greg Maffei, the chief executive officer of Liberty Broadband Corp., Charter's largest shareholder, said on an earnings call Friday that "many" potential equity partners have already expressed interest in investing in a combined company.
There would still be regulatory risks, even though Charter is much smaller than Comcast. Charter and Time Warner Cable will need to demonstrate that consumer benefits to a deal trump potential harms. That's a hurdle they may not be able to overcome, said Greenfield.
"Charter and Time Warner Cable should not even attempt a merger in the current regulatory environment," Greenfield wrote in a May 7 note to clients.
Even so, Time Warner Cable's stock may plummet if it doesn't sell to Charter. Time Warner Cable was valued at less than 7 times trailing 12-month Ebitda before Bloomberg first reported a potential Charter-Time Warner Cable union in June
2013. Today, it's valued at 8.2 times as investors anticipate a deal.
Time Warner Cable's employees have also been preparing to sell for the past 14 months. It's unclear if the management team and employees are prepared to run an independent company when many people have been planning a life after Time Warner Cable.
Deal Terms
If Time Warner Cable does agree to sell, it will probably ask for a similar cash-stock split as Charter's offer in 2014, estimated Amy Yong, a New York-based analyst for Macquarie Group Ltd. When Charter made its hostile offer to buy Time Warner Cable in January 2014, it offered $83 in cash and $49.50 in stock per Time Warner Cable share. That's about 63 percent cash and 37 percent stock.
Charter could pay up to $180 a share for Time Warner Cable, about a 16 percent premium to the stock's level Friday, according to Yong. Her calculation assumes $750 million of synergies and an offer paid 60 percent in cash, 40 percent in stock. The new company would be valued at $225 a share, she said, 25 percent higher than Charter's share price Friday.
With cash making up a large portion of the offer and with Charter's stock worth more than Time Warner Cable's, a deal would give a big boost to profit -- even without synergies. Yong estimates earnings per share would more than triple in both 2016 and 2017.
There's a chance Time Warner Cable would prefer to acquire Charter, rather than the other way around. In this scenario, Time Warner Cable could pay up to $210 a share for Charter, Yong estimated.
Before it's here, it's on the Bloomberg Terminal.
LEARN MORE