Chad to Reschedule $1.5 Billion of Glencore-Led Oil Loans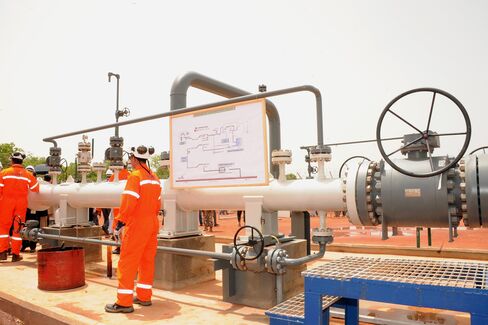 Chad's government is seeking to delay repayment of about $1.5 billion of Glencore Plc-led bank loans to conserve cash after a collapse in crude prices and its intervention in the war against Boko Haram in Nigeria.
Rescheduling repayments of advances on oil sales received in 2013 and 2014 will save the government $400 million, according to a Finance Ministry document presented last month to the International Monetary Fund. The document was given to Bloomberg by an official in the ministry who asked not to be identified because it hasn't been released publicly.
"An agreement is at an advanced stage on a total of $400 million, which should allow Chad to save an estimated $150 million as debt servicing and receive an estimated additional oil revenue of $250 million from the Badoit project," the government said in the document. Badoit refers to Chevron Inc.'s oil and gas assets purchased by the government last year.
The rescheduling highlights the risk that Glencore and banks have taken in Chad, lending the landlocked country the equivalent of almost 14 percent of its $13.5 billion gross domestic product. While the country is sub-Saharan Africa's seventh-biggest oil producer, it's also one of the most underdeveloped countries in the world, ranking 184th out of 198 on the United Nations Human Development Index.
Delaying the repayments may affect banks including Credit Agricole SA, Deutsche Bank AG, Natixis SA and Societe Generale SA, which in 2014 helped Glencore to raise money for one of the two oil-backed loans.
Two Loans
Chad received an advance on crude sales of $1.4 billion from Glencore in 2014 to help finance state-owned Societe des Hydrocarbures du Tchad's acquisition of Chevron's assets, according to Linklaters, the London-based law firm that advised Glencore on the deal. In 2013, the government signed oil-sales accords with Glencore for $600 million, the IMF said. Most of the 2013 loan has already been repaid and a deal on the rescheduling may close in the coming weeks, according to one person familiar with the situation.
Chad delayed the payment of $60 million last year from the 2013 loan, IMF documents show. The postponement occurred when oil prices were above $100 a barrel.
Glencore, the world's second-largest independent oil trader, buys all of the crude sold by Chad's government and made payments worth 16 percent of total government revenue in 2013, according to a July report by the New York-based Natural Resource Governance Institute. Last year, the company bought Canadian company Caracal Energy Inc. for about $1.35 billion to take control of that company's oil and gas assets in Chad.
Debt Rescheduling
The planned rescheduling was "the fundamental piece necessary" for Chad last month to secure $1.1 billion of debt relief after it achieved targets set by the IMF, said James Knight, the U.S. ambassador to Chad.
"The fact they were willing to be helpful in that regard as opposed to obstreperous is going to be a long-term benefit for Glencore's relationship with the Chadian government," he said in an interview in the capital, N'Djamena, on April 30.
Chad's 2015 budget assumed oil prices would remain stable at $65 per barrel. Brent crude fell by as much as 54 percent from a peak of $109.76 per barrel in June 2014. On May 8, it traded 15 cents lower at $65.39 a barrel on the London-based ICE Futures Europe exchange. Oil accounts for 70 percent of Chad's government revenue.
Finance Minister Kordje Bedoumra said the potential for a drop in the oil price had been factored into the contracts when the loans were negotiated.
"There is an arrangement that the period could be longer than the four initial years," he said in an interview.
Military Campaign
The drop in oil revenue may result in a 20 percent reduction in Chad's domestically financed investment and a 50 percent cut in spending on goods and services, according to the World Bank. The country faces a financing gap of as much as 217 billion CFA francs ($370 million), or 4 percent of non-oil gross domestic product, the Washington-based lender said on its website last month.
The forecast deficit "does not include the fiscal impact of Chad's ongoing military campaign against Boko Haram," the World Bank said.
Chadian forces in January joined a regional offensive against Boko Haram, the militant group that's seeking to establish Islamic law in neighboring Nigeria and whose insurgency over the past six years has killed at least 13,000 people, according to the Nigerian government.
The original agreements signed between Chad's government and Glencore allowed for a rescheduling in the event of a drop in the oil price, Oil Minister Djerassem Le Bemadjiel said in an interview in N'Djamena.
Before it's here, it's on the Bloomberg Terminal.
LEARN MORE